MOSCOW (Sputnik) — The Spanish El Pais news outlet reported that President of the autonomous region Carles Puigdemont Casamajo and Josep Guardiola i Sala, manager of Manchester City and former coach of Barcelona football club, took part in the rally held at Montjuic hill in Barcelona.
"The only possible answer is to vote. We are here to demonstrate that on October 1 we will vote at a referendum to choose our future even if the Spanish authorities do not want us to," Guardiola said as quoted by the outlet.
On Friday, Puigdemont said that Catalonia would hold a unilateral referendum on independence on October 1, 2017, if an agreement with the central government to carry out a consultation in an agreed manner would not be reached. Puigdemont referred to his letter to Spain's Prime Minister Mariano Rajoy Brey of May 24, inviting the latter to start negotiations on the terms and conditions of the referendum. On May 25, Rajoy refused to hold such talks.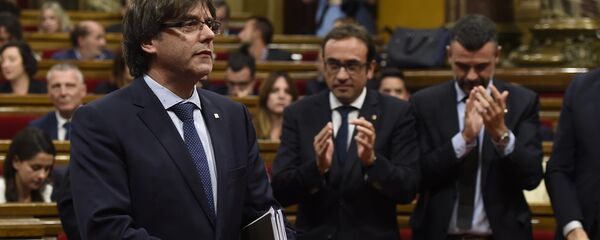 In response to Puigdemont's statement on unilaterally holding the referendum, Spanish government spokesman Inigo Mendez de Vigo said that Madrid would ban any attempts of Catalan government to carry out the vote.
On November 9, 2014, about 80 percent of the Catalans who took part in a non-binding referendum on the region's status as part of Spain, voted in favor of Catalonia becoming an independent state. The independence vote was however ruled unconstitutional by the Madrid authorities.