The fire broke at Grenfell House — which contains 120 apartments — out in the early hours of June 14 and quickly spread upwards and sideways in a manner even fire officers at the scene described as "unprecedented." Focus is now falling on the refurbishment program and the material used to put cladding on the outside of the building intended to improve its appearance.
Eyewitnesses told Sputnik they were alarmed at the speed at which the fire spread, beginning just before one o'clock in the morning, local time, but enveloping the whole building within two hours.
"We saw three people jumping through the window, I think it was 10th or 11th floor; and two people were using their mobile phone to flash for help. There were screams for help. Some had scarves saying 'help' and three people jumped through the window," one eyewitness told Sputnik.
"I was in there at midnight and the next thing I knew it was on fire," another one said.
"It is unbelievable this is happening. There are children shouting. It was terrible," another one told Sputnik. 
Ambulances rush to the scene of the deadly #GrenfellTower blaze in west #London https://t.co/VD8gtDH1Zz pic.twitter.com/gaXN2qGYFf

— Sputnik UK (@SputnikNewsUK) June 14, 2017​
"I can't find my cousin. He lives on the 19th floor. I have tried to call him but he doesn't reply. His name is Mohammed Noor. He has a family, a daughter. I can't get in contact with them," a local told Sputnik. 
Refurbishment Questions
Sputnik has learnt that the refurbishment was carried out by developers Rydon, who were asked to delivered "a number of improvements, with residents still in occupation, to the community facilities and energy efficiency of the building," which as originally constructed in the early 1970s.
#London fire claims lives: Blaze tears through #GrenfellTower https://t.co/VD8gtDH1Zz pic.twitter.com/5SEeIFjuHP

— Sputnik UK (@SputnikNewsUK) June 14, 2017​
Externally, rain screen cladding, curtain wall facade and replacement windows were fitted, improving thermal insulation and modernizing the exterior of the building.
Importantly, the building was given new windows and aluminum composite cladding with thermal insulation. Now investigators will examine whether or not that cladding and insulation was inert or fire resistant and whether it was the cause of the raid spread of the fire described by eyewitnesses.
"It's very early and we should avoid speculating, but we in light of [a previous similar fire at] Lakanal House we have to ask questions about the refurbishment," said Geoff Wilkinson, the Architect Journal's building regulations columnist.
© Sputnik / Jenny McCall
Grenfell Tower fire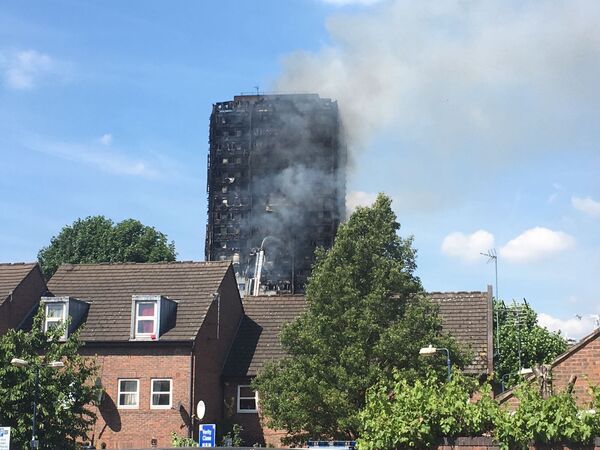 Grenfell Tower fire
"The key investigation will be how the fire which started in one apartment (as that appears to be the case) spread so rapidly upwards without adequately warning the resident in their beds and enabling them to escape in safety," said former
Royal Institute of British Architects
president Geoff Wilkinson.
"It appears that the 1970s block was very recently renovated. That appears to have included new windows and cladding. There is always the risk, and there have been cases in the past, that the design of the replacement windows and the cladding did not provide the necessary fire checks to prevent fire spreading externally from one flat to the one above," Wilkinson said.
In 2009, a fire broke out at Lakanal House in South London. Six people were killed and at least 20 people were injured when the fire spread through the twelve-storey block. The property had been identified as being at risk of enabling a fire to spread if one should occur in one of the flats.
Like Grenfell House, Lanakal House lacked a central fire alarm system and there was criticism of the layout of the apartments which did not provide easy egress in case of an emergency — another similarity to Grenfell.
Investigations will now begin into why a similar fire has once again destroyed another tower block and why it was able to spread so quickly and why previous lessons had not been learned.