GENEVA (Sputnik) — The leader of the Astana opposition platform noted that the groups, consisting of military experts from the different sides of the Syrian conflict, would be created simultaneously for the support of the Astana-brokered de-escalation zones, which were created as a result of the fourth round of talks on the Syrian settlement, held in the Kazakh capital of Astana.
"We will keep on working on the constitution groups with some experts, which means with some constitutionalists, the European constitutionalists, so that they can help us to make a real, new constitution," Kassis said, while answering the question on whether the meeting will take place on July 10-13.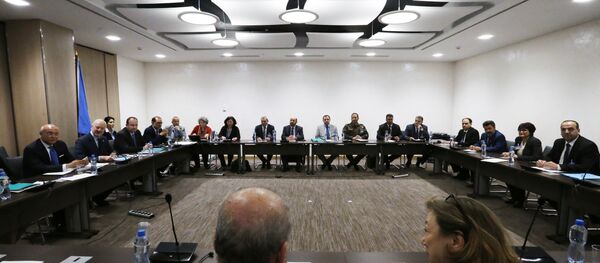 Kassis stressed that the meeting on Syria's new constitution in Astana was initiated as the talks, headed by UN Special Envoy on Syria Staffan de Mistura, seemed to lack any progress and consensus on the development of the constitution.
At the sixth round of UN-backed talks in Geneva, de Mistura presented all parties with a plan to create a consultative mechanism on Syrian constitutional matters, drawing instant criticism from the opposition's High Negotiations Committee (HNC) delegation, which attacked nearly every point of the initiative and demanded clarifications.