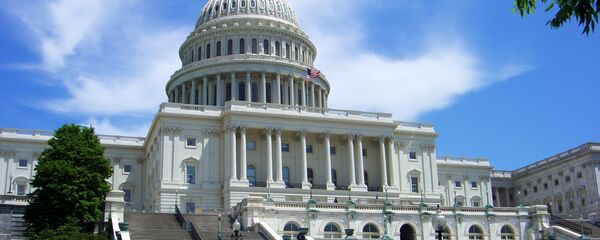 MOSCOW (Sputnik) — The latest round of sanctions adopted by the US Senate will have an insignificant effect on the Russian financial market and state debt, Bank of Russia Governor Elvira Nabiullina said Friday.
"We do not see a major effect from further sanctions on the financial market, and by the way the effect from the previously introduced sanctions we believe has been completely almost exhausted," Nabiullina said at a press conference.
Speaking at a press conference on the day that the bank lowered key rates to 9 percent per year, the head of the regulator said she anticipates sanctions to change banking loan terms from 30 days to 14 days. She classified the anticipated change in the timeframe as not a major risk for the banking system.
"As far as the debt is concerned… we believe that if it affects new investments into Russian treasuries, I do not believe this is going to be a big problem for the Ministry of Finance and for the economy in general because we do not entertain any major plans to grow government debt," Nabiullina stressed.
On Wednesday, the US Senate voted in favor of new sanctions against Russia over its alleged interference in the US presidential election in 2016, the allegation which Russia strongly denies. The new sanctions include additional punitive measures against Russia's defense, intelligence, mining, shipping and railway industries and restrict dealings with the country's banks and energy companies.
Commenting on the US senators' initiative, Russian President Vladimir Putin said during his annual Q&A session on Thursday that Russia had always lived under sanctions, which were introduced at a time when other states saw Russia as a competitor. The president added that even though the existing restrictive measures imposed by the United States and its allies had had some negative impact on Russia, it was not significant.