These weren't some dinky patrol boats, either: the exercise involved the nuclear-powered aircraft supercarrier USS Ronald Reagan and the Izumo-class helicopter destroyer, the largest warship in the Japanese fleet. The JS Sazanami, a guided missile destroyer, also participated in the three-day exercises that ran from Tuesday to Thursday.
The exercises took place in the ever-controversial South China Sea, claimed by China and Taiwan (who both say the majority of the waters are theirs) as well as Brunei, Cambodia, Indonesia, Malaysia, the Philippines, Singapore, Thailand and Vietnam (who all claim partial ownership of the 1.4 million square mile sea). The sea sees a full third of all the world's shipping pass through it, and it contains extremely lucrative fisheries and oil and natural gas reserves.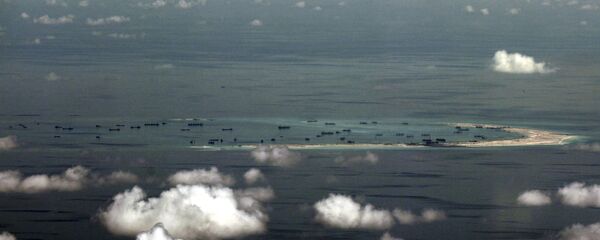 Since 2013, Beijing has begun large-scale land reclamations in the Spratly Islands region to strengthen their territorial claim. The Chinese have created a "Great Wall of Sand," as US Admiral Harry Harris called it, by dredging sand onto coral reefs, covering it in concrete to make permanent islands, and then placing anti-aircraft and anti-missile systems on the new islands to reinforce their claim.
The Permanent Court of Arbitration ruled in 2016 that, among other things, the "Great Wall of Sand" was a violation of the territorial rights of The Philippines. Beijing decried the ruling and has also increased aerial patrols of the disputed areas, calling them a "regular practice." The Philippines has not pushed its victory. 
Japan has no claims in the South China Sea, but is embroiled in a territorial dispute elsewhere with the Chinese, in the East China Sea. In February 2015, Japanese Prime Minister Shinzo Abe framed the territorial dispute between China and the Philippines as a Chinese invasion of Filipino waters.
As for the US, American policy is to remain consistent between administrations and not officially take sides, despite condemnation of Chinese land reclamation by top US officials such Secretary of State James Mattis and Secretary of Defense James Mattis, who recently said that the US "cannot and will not accept unilateral, coercive changes to the status quo" in reference to China's island-building.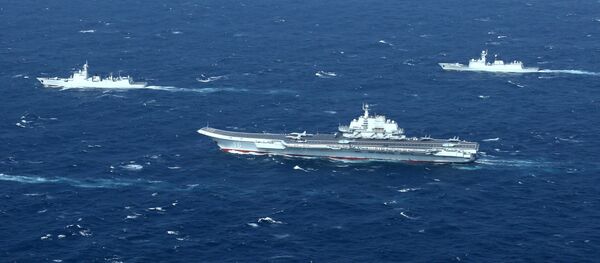 Under former president Obama, the US Navy enforced the right of vessels to sail through international waters but otherwise did not take a side in the territorial disputes. "The policy is consistent between the two administrations," said Adm. Scott Swift, who commands U.S. naval forces in the Pacific. "I don't think anybody is expecting this huge reversal."
As the region heats up once more, US and Japan have stepped up their joint exercises in the Pacific. Earlier in June, the Reagan and fellow carrier the USS Carl Vinson performed exercises with the helicopter carrier Hyuga and the destroyer Ashigara in the Sea of Japan.
Already, the US and Japan have announced additional exercises alongside India off the Bay of Bengal in July.