According to the Russian Defense Ministry, Russian reconnaissance means recorded Daesh units preparation to break through the defenses of the Syrian government troops deployed in Deir ez-Zor.
"In the beginning of June, the Russian Armed Forces' group in the Syrian Arab Republic recorded via UAVs the preparation of Daesh terrorist group's units to break through the defensive lines of a garrison of the government troops blocked in the city of Deir ez-Zor."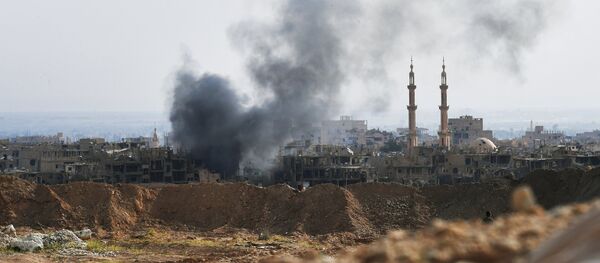 Russian warplanes have eliminated two top Daesh field commanders and some 180 terrorists in Syria during aerial operations on June 6 and 8.
Moreover, the Russian Aerospace Forces also destroyed 16 units of terrorists' automotive and armored vehicles and an ammunition depot during the air raids.
"As a result of preemptive airstrikes of the Russian Aerospace Forces on June 6 and 8, [two] Daesh field commanders… were eliminated. Moreover, about 180 militants, 16 automotive vehicles and armored vehicles, one artillery gun, four command points,and an arms and ammunition depot were destroyed."
Syrian government forces control over a half of Deir ez-Zor, which has been besieged by Daesh militants over three years. The Syrian forces continue an offensive aimed at lifting the siege and creating supply lines for the city's residents. Presently, the only means of delivering supplies to the city is by air.