WASHINGTON (Sputnik) — Canada deployed 450 soldiers with the battle group, most from the 3rd Canadian division based in the province of Alberta.
"Over 1,000 soldiers from seven NATO nations participated in a ceremony today at Camp Adazi, Latvia, to mark the standup of NATO's enhanced Forward Presence (eFP) battlegroup in Latvia," the release stated.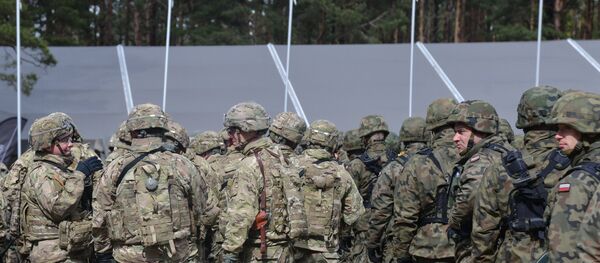 The group will operate with the Latvian Land Forces Infantry Brigade and is comprised of soldiers from Albania, Canada, Italy, Poland, Slovenia and Spain.
"Today's ceremony marks the implementation of one of Canada's key NATO commitments. Leading NATO efforts to deter and defeat potential aggression is a core mission in Canada's new Defence Policy, "Defense Minister Harjit Sajjan said at the ceremony.
NATO members decided at the July 2016 Warsaw Summit to establish the enhanced forward presence in Central and Eastern Europe. The Canadian Defense Ministry noted that all NATO eFP battlegroups are now in place in Latvia, Estonia, Lithuania and Poland.