The crews will be able to carry out degaussing of a ship at sea in case of danger, thus misleading the enemy.
The new system has already been tested on the Ivan Gren landing ship.
The standard energy storage devices currently used by the Navy have high specific power but low specific energy parameters. Degaussing systems based on them are heavy and are only available on a limited number of ships.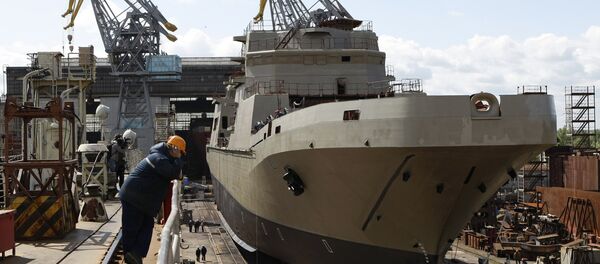 Unlike the bulky energy storage devices of the past, supercapacitors are the size of a regular car battery, but because they are integrated into the ship's onboard equipment, they ensure a continuous process of demagnetization.
Developed for the Navy by the company TEAM, supercapacitors boast a power capacity of 100 kW/kg, can operate even at extreme temperatures and can be used on ships, aircraft and cars.
Naval armaments expert Alexander Mozgovoy told the newspaper that while the standard ship demagnetization procedure is long and tedious, it can now be performed on the territory of naval bases.
"In addition to its unique acoustic portrait, each ship also has an electromagnetic signature all its own. There are magnetic mines, torpedoes and even missiles with self-homing magnetic warheads," Mozgovoy explained.
He added that new technologies considerably simplify the process of demagnetization, since everything is done with one click. This system also continuously monitors the state of the ship's electromagnetic field.
"The Americans already have a similar system installed on their newest Zumwalt destroyer," Alexander Mozgovoy said.