Russian missile defense will intercept any aircraft in the area of operations of the Russian Aerospace Forces in Syria, the ministry said.
"In areas where Russian aviation is conducting combat missions in the Syrian skies, any flying ojects, including jets and unmanned aerial vehicles of the international coalition discovered west of the Euphrates River will be followed by Russian air and ground defenses as air targets," the Russian Defense Ministry announced.
The US-led coalition command didn't use the deconfliction channel with Russia to avoid an incident during an operation in Raqqa, the ministry said.
"Russian Aerospace Forces' jets were conducting operations in Syrian airspace that time. However, the command of the coalition forces didn't use the existing channel between the air command of the Qatari airbase al Udeid and the [Russian] Hmeymim airbase to avoid incidents over Syria," the ministry said.
The ministry added that it "demands a thorough investigation by the US command with the provision of its results and measures taken."
"We consider such actions of the US command as an intentional violation of its obligations in the framework of the memo on avoiding incidents and the safety of aviation flights during operations in Syria signed on October 20, 2015."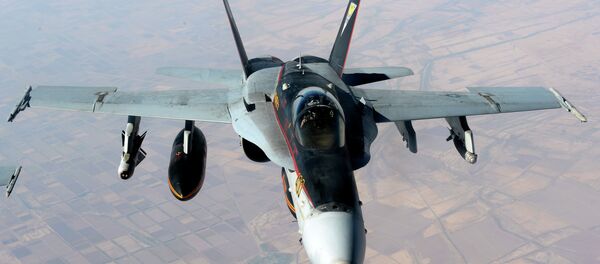 The United States and Russia signed the bilateral memorandum of understanding in October 2015 to ensure the safety of flights during combat missions over Syria.
On June 18, the Syrian army said that the US-led coalition had brought down its aircraft in southern Raqqa countryside when it was fulfilling its mission against Daesh.
Later, the coalition confirmed the information saying that it shot down the Syrian government forces' Su-22 aircraft as it had allegedly been bombing in an area where US-backed rebel forces, the Syrian Democratic Forces (SDF), were stationed, south of Tabqa in the Raqqa province. The US-led coalition called its attack on the Syrian army's jet "collective self-defense," adding that it contacted the Russian military to de-escalate the situation after the incident.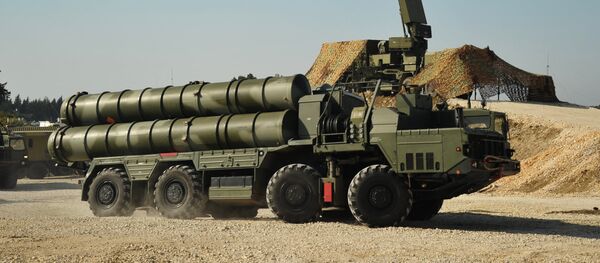 In the beginning of April, the Defense Ministry said following a
US' Tomahawk cruise missile attack
on a Syrian army's airfield that the Russian air defense combat units in Syria are on duty round-the-clock. The S-400, the S-300 and the Pantsir air defense systems protect the Russian air group at the Hmeymim airfield from the air.
The S-400 system was deployed at the Hmeymim following the Turkish Air Force's November 2015 downing of a Russian Su-24 bomber on the Syrian-Turkish border.
In October 2016, the Russian Defense Ministry said that a S-300 system was sent to Syria to ensure the safety of the Russian naval base in Tartus. According to media reports, the system deployed in Syria is S-300V4 — NATO designation SA-23 Gladiator — that is capable of striking tactical and strategic aircraft, medium-range ballistic missiles, tactical missiles as well as cruise missiles.
© Sputnik
The S-400 Triumf Mobile Multiple Anti-Aircraft Missile System (AAMS)

The S-400 Triumf Mobile Multiple Anti-Aircraft Missile System (AAMS)