The UN Security Council has recently issued a resolution calling on Yemeni forces to cease attacks against the Saudi army.
According to Rashid, the resolution has given a green light to the Arab coalition to continue airtrikes against Yemeni citizens.
"The world is silent about the crimes committed against Yemen by the international coalition and terrorist organizations financed by certain countries," Rashid said.
"But we, the Yemeni army, tell our compatriots that these crimes will not remain unpunished. The response to the committed crimes will be an attack on military infrastructure in the center of Saudi Arabia. We will choose the right time to respond to this aggression," he added.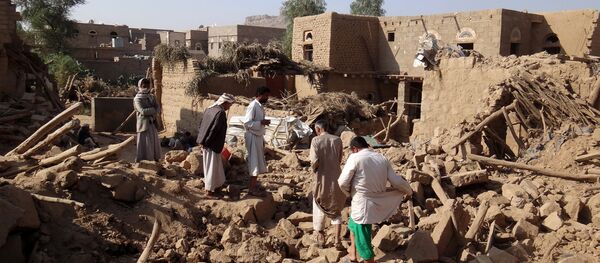 An airstrike conducted by the forces of the Saudi-led coalition in northern Yemen against the Houthi movement resulted in the death of at least 24 people, media reported Sunday, citing a local doctor.
The airstrike hit a market in the Saada governorate, while civilians were present at the site, the Houthi movement's Saba news agency reported.
Yemen has been suffering from a brutal conflict between the government and the Houthi movement backed by army units loyal to former President Ali Abdullah Saleh since 2014. In March 2015, the Saudi-led coalition of mostly Persian Gulf countries started carrying out airstrikes against the Houthis at the request of Yemeni authorities.