The carnival, which before the war was celebrated annually to mark the end of school exams, has been restored after a five year hiatus, becoming a symbol of peace and life in the Aleppo's historic Old City.
The carnival, featuring costumes, food, song, dance, and performances, took place at Aleppo's Citadel, a UNESCO World Heritage Site which is considered one of the oldest and largest castles in the world, its use going back to at least the 3rd century BC.
Russian media report on the carnival.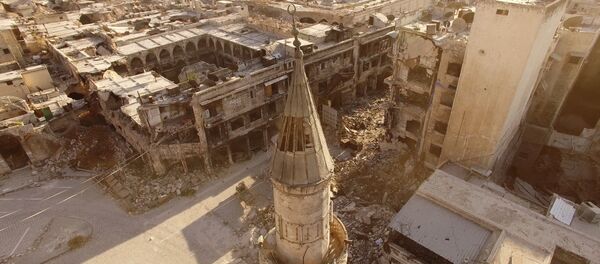 Amid the fight for the city beginning in 2012, the Citadel was briefly occupied by militants. Liberated by the Syrian Army in 2013, the ancient structure was surrounded by jihadists for several years before the entire city's liberation by government forces last year. The militants dug tunnels under the Citadel to try and capture it, and fighting for the castle caused significant damage.
Speaking to local media, carnival participant Azizah Jakhari explained that "before the militants invaded Aleppo, school graduates had gathered at the Citadel for many decades to mark the start of their adult lives."
This year, she said, "we are celebrating the beginning of the restoration of the ancient city; this celebration symbolizes the beginning of a peaceful life for the city's residence – without bomb explosions and constant fear."
The celebrations were temporarily interrupted by a power cut. Nevertheless, people were not in any hurry to go home. 
Muhammad Akri, a local student, told journalists that Aleppo residents have become accustomed to power shortages over five years of occupation by the militants. "For us, it doesn't matter whether we have electricity or not. Everyone is just happy that the city has finally been freed from the sound of exploding shells," he said.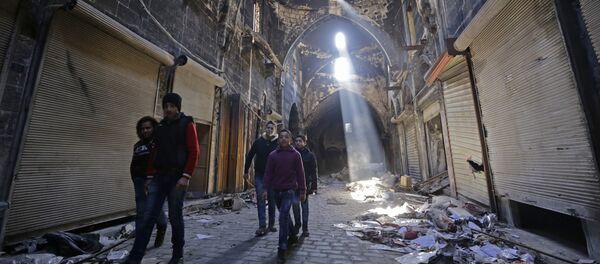 24 January 2017, 12:00 GMT
Muhammad emphasized that Aleppo's residents are determined to help repair and restore the historic Old City as soon as possible, but added that everyone is aware that this may take decades.
It is estimated that up to 80% of Aleppo's Old City has suffered damage thanks to the war. It is estimated that restoration efforts may cost up to $35-40 billion US. Officials hope funds for restoration will be collected from generous donors from around the world. In early June, the National Museum in the Czech Republic signed an agreement with the Syrian Department of Museums and Antiquities to allocate about 1.5 million euros from the Czech side for restoration efforts.