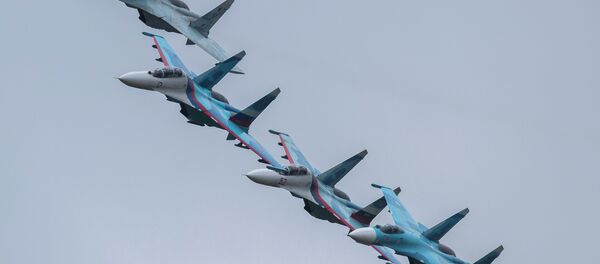 BRUSSELS (Sputnik) – Earlier in the day, a NATO F-16 fighter attempted to get close to Russian Defense Minister Sergei Shoigu's plane en route to the westernmost Russian city of Kaliningrad over neutral Baltic waters but
was chased away by a Russian jet
. Russia's Sukhoi Su-27 fighter, one of the aircraft escorting Shoigu's plane, then displayed its weapons, prompting the F-16 to retreat.
"NATO can confirm that three Russian aircraft, including two fighters, were tracked over the Baltic Sea earlier today (21 June 2017). As the aircraft did not identify themselves or respond to air traffic control, NATO fighter jets scrambled to identify them, according to standard procedures. NATO has no information as to who was on board. We assess the Russian pilots' behaviour as safe and professional," a representative of the alliance told reporters.
The NATO official stressed that the pilot's actions were routine.
"Generally, when NATO aircraft intercept a plane they identify it visually, maintaining a safe distance at all times. Once complete, NATO jets break away … All our pilots behave in a safe and responsible way," the NATO representative said.
In Kaliningrad, Shoigu held a ministerial board meeting devoted to issues of ensuring security in the Western strategic direction.
On the way from Kaliningrad, the Russian fleet was joined by Su-34 fighter-bombers. Several NATO aircraft escorted Shoigu's plane at a considerable distance, not trying to get close, according to a Sputnik correspondent.