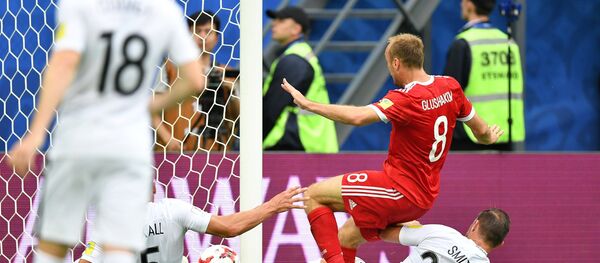 MOSCOW (Sputnik)
–
Over 3,000 foreign football fans have taken advantage of the free transport program available to them so that they may travel between the four Russian host cities and attend 2017 FIFA Confederations Cup matches, the Transport Directorate of FIFA World Cup Russia 2018 said Thursday.
"A total of 3,017 foreign fans of the FIFA Confederations Cup 2017 have used a service to get free tickets for additional trains," the directorate said in a press release.
Free trains are used by fans from 81 countries, according to the press release. It was also noted in the release that free trains are most popular among fans from Chile, Mexico, Ukraine, Belarus and Germany, who together amount to over 60 percent of all trips.
On Wednesday, Russian Deputy Prime Minister Vitaly Mutko said that a total of 30,000 football fans, both Russians and foreigners, had used free train ride service between the four cities hosting Confederations Cup games.
The Russian Railways company launched a total of 262 additional trains between the host cities of the Confederations Cup: Moscow, St. Petersburg, Kazan and Sochi. The transportation is free for football fans that have both a FAN ID and a ticket to the game. Fans and journalists can book their tickets at tickets.transport2018.com.
The 2017 FIFA Confederations Cup kicked off in Russia on June 17 and will continue through July 2. Matches are scheduled between the national teams of Australia, Cameroon, Chile, Germany, Mexico, New Zealand, Portugal and Russia.