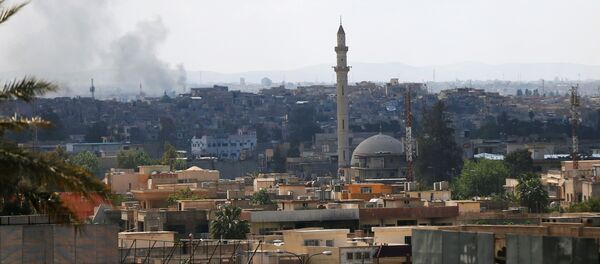 MOSCOW (Sputnik) — On June 11, the Iranian military announced that they had evidence of direct US support of Daesh militants.
"These documents are planned to be released. It is necessary to mention that these documents are not written texts or some kind of contracts that could be published in a written form. This evidence is related to the aspects of battle actions. This means that the evidence show, in which locations [the United States] provided assistance to the IS. Weapons, supplies, logistical and medical assistance — all these point at this support," Hamid Reza Moghadam Far said.
The official added that Washington itself had also contributed to the creation of Daesh.
"The fact that the United States is behind the creation of the IS is more important. They cannot conceal this fact. But even today, when they state that 'we have made a mistake, creating this organization, and want to destroy it now,' they are still telling lies and it could be proved by many documents," the Iranian official said.
Daesh has overrun a number of settlements during recent years as part of their declaration of a caliphate, especially in Syrian cities, such as Raqqa, and in Iraqi cities such as Mosul. The group is infamous for numerous violent actions, including terrorist attacks and widespread destruction of cultural heritage on the occupied territories.
The United States is leading a coalition of almost 70 nations fighting against the terrorist group in Syria and Iraq. The activities, including the airstrikes, in Iraq, are conducted in support of the country's government, but those in Syria are not authorized by the UN Security Council or the Syrian government.