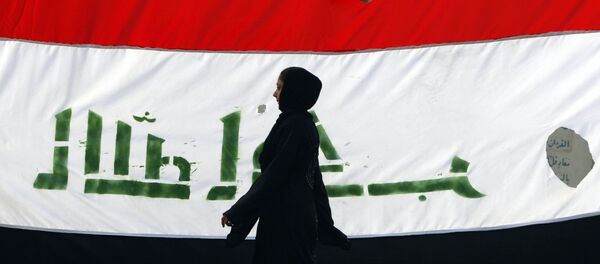 Earlier this week, Iraqi Prime Minister Haider al-Abadi visited Saudi Arabia, Kuwait and Iran, discussing important matters of state and the affairs concerning the whole of the Middle East with the leaders of these bordering nations.
Abbas al Bayati, a member of the foreign relations committee of the Iraqi parliament, told Sputnik Arabic that the prime minister's visit shows that "after the victory over Daesh (ISIL/ISIS), Iraq retains its stability and seeks to forge constructive foreign relations" with its neighbors.
"The country will conduct a balanced foreign policy with all of its neighbors amid the multitude of crises in the region. Iraq can forge trusting relations with its neighbors based on the principles of independence and mutual respect," he said.
According to al Bayati, the goal of Prime Minister al-Abadi's visit to Iran was to secure help for the war against Daesh terrorists and to negotiate a number of prominent economic issues.
"The goal of the visit to Tehran was to secure assistance in the war against terrorism, as well as to discuss important trade and economic issues like, for example, navigation along the Shatt al-Arab river. The issue of adherence to previously-established agreements was also brought up. The results of t al-Abadi's trip confirm that the negotiations were successful and that Iraq will forge constructive relations with all of its neighbors," he said.
Al Bayati also added that once Daesh is finally defeated, Iraq will enter a crucial stage of development, the success of which will be determined by several important factors.
"After the victory over Daesh, Iraq will enter a very important stage of development, which may only succeed if three conditions are met. The first is adherence to the constitution; the second is the preservation of unity, which must not be destroyed; and the third is a democratic system of governance where the principle of the transition of authority is clear to everyone and equal for all, as Daesh's lesson has shown the importance of this condition," he explained.
Al Bayati also remarked that once the Daesh terrorists are driven from Iraq, the US military presence in the country will become redundant, but US military advisers and instructors may help train and equip the Iraqi army.
Meanwhile, Iraqi analyst Hashim al-Hashim told Sputnik that Prime Minister al-Abadi had managed to display Iraq's intent to cooperate with other countries and to become "a part of the whole region"; that Iraq is not just someone's ally in a conflict against another state. This, al-Hashim argued, is a new pivot in Iraq's foreign policy.