WASHINGTON (Sputnik) — According to Politico, the Trump administration is engaged in fierce debate over this issue.
"[It is] irresponsible for us to continue to adhere to a treaty when the only other participant has long moved on from it," Republican Mike Rogers, the chairman of a key oversight panel on nuclear weapons, told Politico in a comment published on Saturday.
In February, Senator Tom Cotton proposed a new legislation, which enables to transfer INF-range missile systems to allies in response to Russia's alleged violations of the INF Treaty.
"Declaring Russia in material breach of the treaty is an option the President should absolutely consider," a spokesperson for Cotton told the media outlet.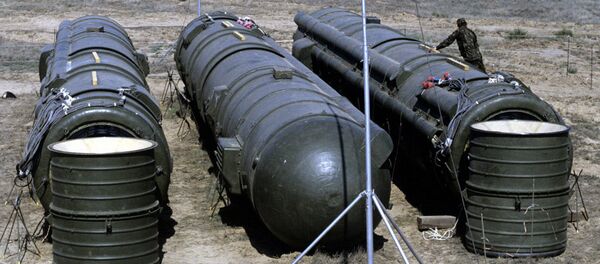 Soviet President Mikhail Gorbachev and US President Ronald Reagan signed the INF Treaty in 1987. Russia is a party to the treaty as the Soviet Union's successor state. Within the framework of the deal, the two sides agreed to destroy and not to further develop ground-launched ballistic and cruise missiles that have a range of 500-5,500 kilometers (310-3,410 miles). Since then, both Moscow and Washington have repeatedly accused each other of violations of the bilateral agreement.
Russian Foreign Minister Sergey Lavrov has repeatedly said that Moscow was in full compliance with the INF treaty. According to Lavrov, Moscow had its own concerns over Washington's compliance with the INF Treaty and that the Russian side had repeatedly called on US partners to substantially discuss the most controversial points related to the agreement's implementation.
In February, US media reported that Russia had deployed nuclear cruise missiles in violation of the INF Treaty. In March, US Joint Chiefs of Staff Vice Chairman Gen. Paul Selva said in a congressional testimony that the United States aims to "look for leverage points" seeking Russia's compliance with the treaty.