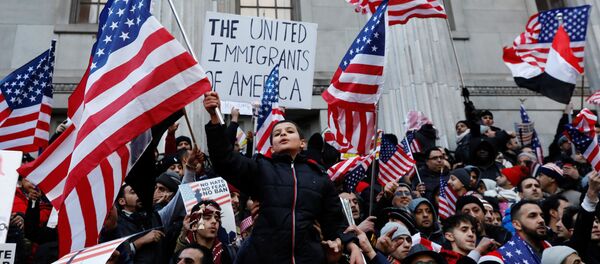 WASHINGTON (Sputnik) — The US Department of State said in a press release it would execute President Donald Trump's travel ban in 72 hours after the Supreme Court decided to partially lift an injunction of stay on his executive order on immigration.
"[The] Department of State will implement Executive Order 13780… in an orderly fashion, consistent with the Supreme Court's unanimous order, and in accordance with the Presidential Memorandum issued on June 14, 2017, which directs us to begin implementation 72 hours after the stay," the release stated on Monday.
The State Department pointed out that further details on putting the executive order into effect will be available after consultations with the departments of Justice and Homeland Security.
The Trump administration maintains communication with US partners with respect to Refugee Admissions Program and will keep them informed of changes as they are applied, the State Department added.
Earlier on Monday, the US Supreme Court partially lifted injunctions against the travel ban, which have been imposed by lower courts, and agreed to consider the lower court cases in October.