BRUSSELS (Sputnik) — The European Commission received a letter from six operators of gas transmission systems (GTS) from Germany, Austria and the Czech Republic with an expression of support for the construction of the Nord Stream-2 gas pipeline, a spokesperson for the European Commission told Sputnik Tuesday, confirming earlier media reports.
"I can confirm that the letter has been received. As with all letters sent to the Commission, it will be replied to at the appropriate level," the spokesperson said when asked if the Commission had received the letter.
The Bloomberg earlier reported that it had seen a letter from six EU operators of gas transportation systems, which was addressed to the head of the European Commission, Jean-Claude Juncker. The letter was reportedly signed by Gas Connect Austria, Fluxys Germany, ONTRAS, NET4Gas, Gascade and Gasunie Germany.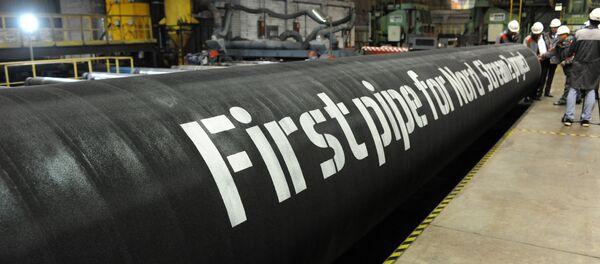 The GTS operators reportedly expressed concern in the letter about the planned EU negotiations on an agreement with Russia on the key principles of the Nord Stream 2 gas pipeline operation. The pipeline will help to maintain competition in the European gas market and enhance security of supply, at the same time, while negotiations may lead to significant negative effects, the letter reportedly said.
The letter added that if the EU attitude toward the Nord Stream 2 project differs from that toward other similar pipeline construction projects, for example, in the Mediterranean Sea, this will increase the prospect of legal uncertainty for the supporters of pipeline projects in the future.
The GTS operators have already started investing in new onshore gas infrastructure assets related to the Nord Stream 2, the letter said. Any postponement due to potential negotiations may lead to significant economic damage to these companies, it added.
The Nord Stream 2 project presumes the construction of two gas pipelines with a combined annual capacity of 55 billion cubic meters of gas. The new pipeline is planned to be laid along Nord Stream pipeline route from the Russian coast through the Baltic Sea to a hub in Germany.
Nord Stream 2 is not subject to all the rules of EU internal market, the Third Energy Package, since the pipeline will not pass through the land part of the European Union, but will go across the sea. The European Commission expressed its desire to reach an agreement with Russia on a number of key principles that would apply to the work of this gas pipeline, including transparency in its operation, non-discriminatory tariffs for gas pumping, third-party access to the pipeline and separation of gas sale and transportation functions. The Commission has not announced its actions in case of Russia's refusal to negotiate.