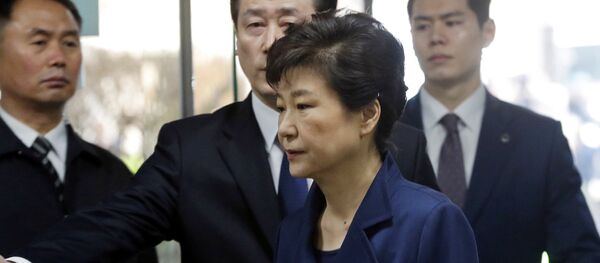 TOKYO (Sputnik) — South Korean National Intelligence Service (NIS) said Pyongyang's threats to former South Korean President Park Geun-hye and form NIS chief Lee Byung-ho over their involvement in an alleged plot to assassinate North Korean leader Kim Jong Un were intolerable, and that the accusations on which they are based are groundless, local media reported Wednesday.
According to the Yonhap news agency, the NIS denied the North Korea's accusations over the alleged assassination plot and said that it would not tolerate its "open threat" against South Korean citizens.
Earlier in the day, Pyongyang urged Seoul to extradite Park, who was impeached in March over a corruption scandal, and the former NIS chief to North Korea for execution. North Korean Ministry of State Security specified in a statement, quoted by the Yonhap news agency, that Park and Lee "cannot avoid being cruelly killed by anyone, any time and any means from now on."
In May, North Korea's intelligence services claimed that the US Central Intelligence Agency (CIA) and NIS had planned attacks using biochemical substances to assassinate North Korean leader and named key suspects in a case regarding the alleged preparation of a coup.