"Cardinal Pell is facing multiple charges and there are multiple complainants," said Shane Patton, the deputy commissioner of the Victoria Police Department, during a press conference.
"For clarity, I want to be perfectly clear, the process and procedures that are being followed in the charging of Cardinal Pell have been the same that have been applied in a whole range of historical sex offences whenever we investigate them," Patton added.
"Cardinal Pell, like any other defendant, has a right to due process and so therefore, it is important that the process is allowed to run its natural course."
Pell has consistently denied all charges. "I stand by everything I've said at the royal commission [on child sexual abuse] and in other places. We have to respect due process, wait until it's concluded and obviously I'll continue to cooperate fully," he told reporters. Pell is to appear at court on July 18.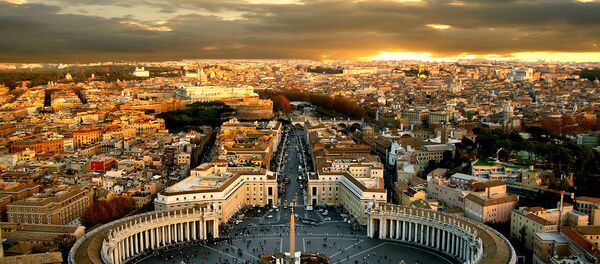 9 February 2017, 11:46 GMT
Pell has been a cardinal since 2003 and was the archbishop of Sydney and Melbourne from 2001 until 2014. In 2014, he was made the Vatican's treasurer and has thus been living in Rome. Australian authorities have commanded the 76-year-old official to return to stand trial, and Pell said that he was willing to make the journey. Previously in 2014, he declined to return to Australia to testify at a royal commission on child sexual abuse in the church. Pell, citing ill health, instead testified over videolink.
During his testimony, Pell told prosecutors that he didn't believe it fair to blame the Catholic Church for the actions of its officials. In a comment that drew much controversy, he likened the Holy See to a trucking company: "If the truck driver picks up some lady and then molests her, I don't think it's appropriate, because it is contrary to the policy, for the ownership, the leadership of that company to be held responsible."