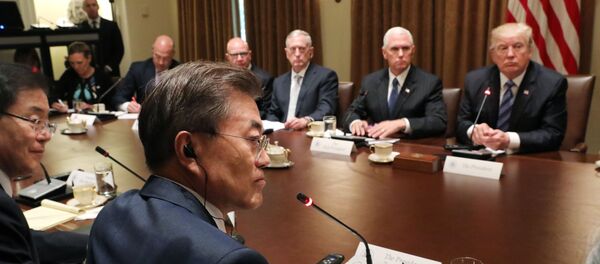 WASHINGTON (Sputnik) — South Korea's newly-elected President Moon Jae-in vowed Friday to continue joint US-Korean military drills, which he said should be viewed separately from the North Korean nuclear dilemma.
"North Korea's nuclear and ballistic provocations are illegal and violate UN resolutions and international norms, while joint US-Korean military exercises are of defensive nature, have a long history and are legal. I think we should not trade illegal activities for something legal or promote bad behavior," he said in Washington.
South Korean and US troops joined together in March for two months of annual defense training, designed to increase readiness to defend South Korea. The drills, called Foal Eagle, included ground, air, naval and special operations. Pentagon spokesman Jeff Davis said they were defensive in nature and were carried out transparently for nearly 40 years.
China suggested in late April that US-South Korea military exercises be halted simultaneously with North Korea's pursuit of nuclear weapons. Pyongyang views the annual drills as preparation for an invasion and has been building up its nuclear and ballistic missile potential.