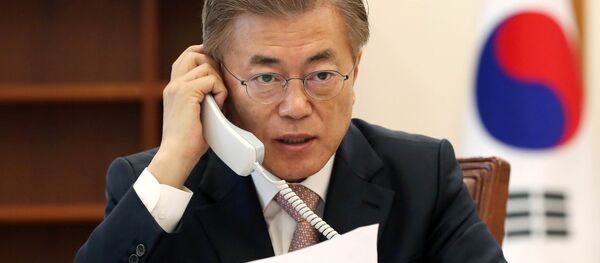 WASHINGTON (Sputnik) — US President Donald Trump welcomed the visiting South Korean counterpart Moon Jae-in to the White House on Thursday where they discussed a wide range of issues, including the North Korea dilemma and trade.
"Just finished a very good meeting with the President of South Korea. Many subjects discussed including North Korea and new trade deal!" Trump tweeted.
Speaking before a formal dinner, Trump said "complexities of North Korea" might be raised at their meeting as it progressed late into the evening. Pyongyang's nuclear ambition has been a cause of concern for both allies.
On bilateral trade, US president previously criticized his nation's 2012 free trade agreement with South Korea, calling it horrible and unacceptable. But the executive vice president of the US Chamber of Commerce, Myron Brilliant, urged Trump on Tuesday not to abandon the pact, which he said had improved conditions for US exports in South Korea.