MOSCOW, July 1 (Sputnik) — Russian President Vladimir Putin and Emir of Qatar Sheikh Tamim bin Hamad Al Thani held a phone conversation on Saturday and agreed to keep contacts at various levels, Kremlin's press service said.
"The exchange of opinions on relevant issues of the Russian-Qatari cooperation focusing on the implementation of a range of perspective projects, including those in the areas of investment and energy, has continued. The contacts at various levels have been agreed on," the statement said.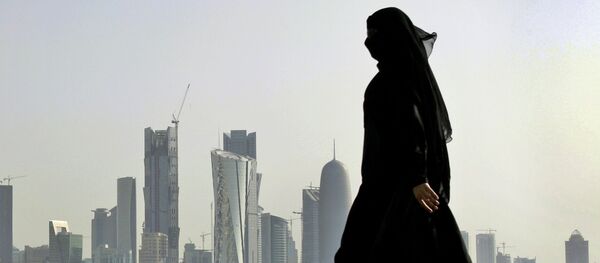 In the conversation with the Qatari emir, Putin stressed the importance of political and diplomatic efforts in normalization of situation around Doha.
"The crisis in the relations between Qatar and a range of other countries has been thoroughly discussed. Vladimir Putin stressed the importance of political diplomatic efforts aimed at overcoming the existing differences and normalization of current difficult situation," the press service added.
The conversation took place on the initiative of the Qatari side.
On June 5, Saudi Arabia, the United Arab Emirates, Bahrain and Egypt broke off diplomatic relations and communication with Qatar, accusing it of supporting terrorism and interfering in their internal affairs. Later, the Maldives, Mauritius, and Mauritania also announced the severance of diplomatic relations. Jordan and Djibouti reduced the level of their diplomatic missions in Qatar.
Last week, Kuwait, which is serving as a mediator between Qatar and the Gulf States, handed the demands of Saudi Arabia, Egypt, the United Arab Emirates and Bahrain over to Doha. The requests include the severance of Qatar's relations with Iran, closure of Turkey's military base on Qatar's territory and a shutdown of the Al Jazeera TV channel. Doha was given ten days to implement the demands.
Qatar has called the conditions impossible and urged for their revision.