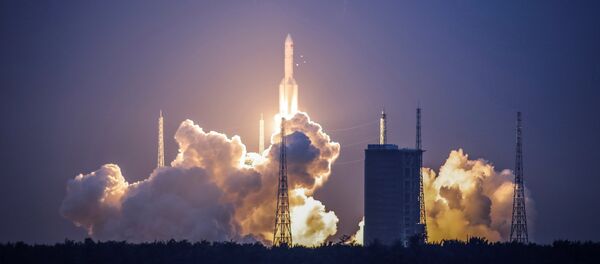 The LM-5 rocket carrying the Shijan-18 telecommunications satellite lifted off from the Wenchang space center on Hainan Island, at 19:23 local time [11:23 GMT] on Sunday.
However, just moments after liftoff, something went wrong, forcing China's state-run television to break off its live coverage of the event.
"An anomaly occurred during the flight of the rocket," Xinhua news agency reported. A further investigation will be carried out," Xinhua reported, without elaborating.
It was the second launch of the LM-5, which made its successful debut last November.
In an interview with Sputnik, Alexander Zheleznyakov, a member of the Tsiolkovsky Academy of Cosmonautics in Moscow, said that space technology remains too unpredictable and too complicated for anyone to be sure that everything will go according to planl.
"The Long March line of carrier rockets differs from its predecessors in bother their technical characteristics and potential. The Chinese say these rockets feature over 200 new technical innovations, possibly also in the propulsion and flight control systems. The LM-5 is designed to launch lunar probes and elements of a Chinese space station," Zheleznyakov said.
He added that since the rocket is still in its experimental stage, mishaps simply can't be avoided, but they will have no serious impact on the development of the Chinese space program.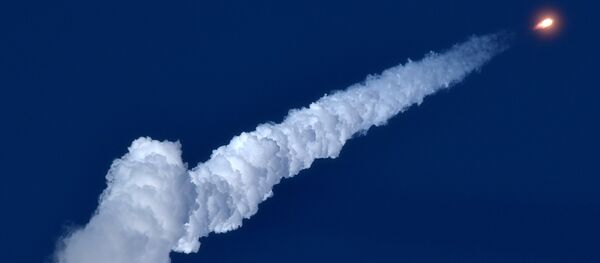 27 February 2017, 06:12 GMT
"In the field of space exploration, the Chinese come right after Russia and the US. Judging from the pace of their development, I don't think they will cede this spot to anyone, any time soon. They have learned much from us and the Americans; they even copied a lot of our technologyny, but now they are moving ahead and have a school of their own. China is a serious rival," Alexander Zheleznyakov noted.
He still added that even though Sunday's incident would have no serious negative impact onf China's space program, the failure could put on ice a number of launches, including that of the Chang'e-5 lunar probe.
The launch of the Chang'e-5 probe is scheduled for late-November. An the end of its month-long mission, the probe is to land on the Moon, collect samples of lunar rock and return to Earth.