MOSCOW (Sputnik) — China's "One Belt, One Road" strategy was launched in 2013 and is aimed at developing infrastructure and strengthening ties between the Eurasian countries, focusing on the land-based Silk Road Economic Belt and the 21st-century Maritime Silk Road. In May 2015, Russia and China signed an agreement aimed at combination of integration efforts of both the Eurasian Economic Union and the Silk Road project.
"We see a big potential in the joint use of the Northern Sea Route, the Trans-Siberian Railway and the Baikal-Amur Mainline. It matches the initiative of the Chinese partners, which has been discussed recently at 'One Belt, One Road' forum in China. The initiative of the Chinese leader deserves special attention and will be supported by Russia by all means," Putin said after the talks with his Chinese counterpart Xi Jinping in Moscow.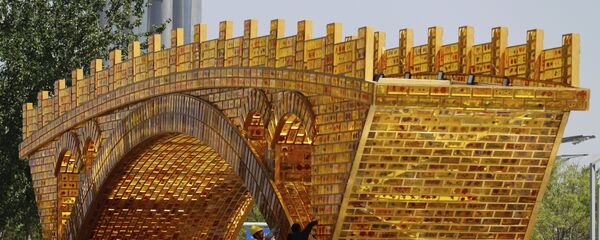 Putin expressed the belief that the large-scale projects would intensify trade, enhance modernization of industry, create new jobs and prompt the development of regions in China and Russia.
The Russian Direct Investment Fund (RDIF) and the China Development Bank (CDB) agreed to establish a joint 68-billion-yuan (some $10 billion) investment fund, a Sputnik correspondent reported.
The agreement implies that the new fund would contribute to direct investments, including within the framework of the China's "One Belt, One Road" strategy.
The agreement was signed by the chiefs of the RDIF and the CDB within the framework of Xi's visit.
Moreover, Russian oil giant Rosneft and China CEFC Energy Company Limited signed a strategic cooperation agreement on Tuesday.
The agreement was signed by the heads of the two energy companies during the visit of Chinese President Xi Jinping to Russia and the invitation of Russian President Vladimir Putin.
Putin said  after talks with Xi Jinping that Russian energy giant Gazprom and China's CNPC continue coordinating the parameters of Russian gas supplies to China along the western route.