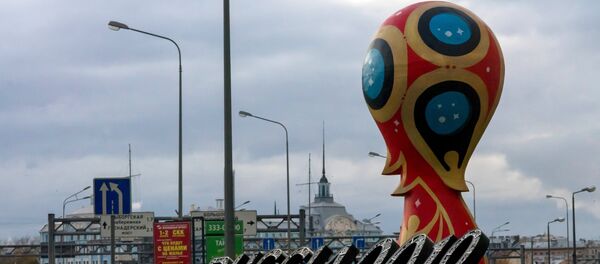 MOSCOW (Sputnik) — Earlier in the day, the Izvestia newspaper reported, citing Russiatourism's document on activities in 2016, that six out of eleven Russian federal regions set to host FIFA World Cup games lack sufficient accommodation.
"There are no grounds for concern about accommodation for fans at the 2018 Football World Cup in the host regions, including Volgograd, Kaliningrad, Nizhny Novgorod, Rostov and Samara regions and the Republic of Mordovia. There will be enough places for all guests of this colorful sporting event to stay at," Safonov said as quoted by the press service of the Russiatourism.
Safonov added that in the framework of preparations for the World Cup a number of new hotels are being built in an orderly fashion under constant control, and this work would be completed on time.
Russia will host the FIFA World Cup for the first time in 2018, with the championship set to kick off on June 14 and continue through July 15. Moscow, Kaliningrad, St. Petersburg, Volgograd, Kazan, Samara, Nizhny Novgorod, Saransk, Rostov-on-Don, Sochi and Ekaterinburg will host the games.