A joint statement issued by foreign ministers of the Saudi-led bloc revealed that Qatar had rejected the demands previously sent to Doha by Arab countries.
The ministers of Egypt, Saudi Arabia, Bahrain and the United Arab Emirates "regret the negative response from Qatar," the statement, read out by Egyptian Foreign Minister Sameh Shoukry after meeting in Cairo, said.
"The response the four states got was overall negative and lacked any content. We find it did not provide a basis for Qatar to retreat from its policies," Shoukry said, adding that Doha's "position reflects a failure to realize the gravity of the situation."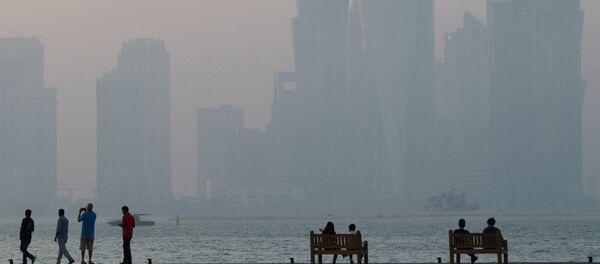 Adel al-Jubeir said that political and economic boycott will remain in force until Qatar changes its policies "for the better."
"The political and economic boycott will continue until Qatar changes its policies for the better," al-Jubeir said at the news conference.
He asserted that further steps against Qatar will be taken "at the appropriate time," noting that those future steps would be in line with international law.
On June 5, Saudi Arabia, the United Arab Emirates, Bahrain and Egypt broke off diplomatic relations and communication with Qatar, accusing it of supporting terrorism and interfering in their internal affairs. The Maldives, Mauritius, and Mauritania followed suit, while Jordan and Djibouti decided to reduce the level of their diplomatic contacts with Qatar.
Later in June, Kuwait handed over to Doha the ultimatum of Saudi Arabia, Egypt, the United Arab Emirates and Bahrain with 13 demands, including the requests to severe Qatar's relations with Iran, close Turkey's military base in Qatar and shut down Al Jazeera TV channel, as well as to end support for the Muslim Brotherhood, a terrorist organization banned in Russia.
On Tuesday, Doha said that the demands are unrealistic, but it is ready to continue the dialogue to resolve the diplomatic crisis.