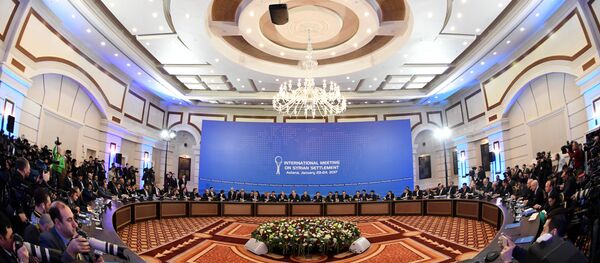 ASTANA (Sputnik) — Syrian armed opposition at Astana negotiations on Syria aims at reaching a lasting ceasefire, delegation head, Free Syrian Army Chief of Staff Ahmed Berry, told Sputnik.
"We have arrived here to reach crucial aims. First of all, to establish a ceasefire — not a temporary, but a lasting one," Berry said.
Another principal objective, he added, is an agreement on detainees and prisoners release.
According to Sputnik's source, participants to the fifth international meeting on Syria in Astana, apart from an agreement on deescalation, will announce the final deal or prisoners release, which they have been developing at the previous rounds.
The fifth international meeting on Syria in Astana takes place on July 4-5, and brings together the delegations from the three guarantor states — Russia, Iran and Turkey — as well as the Syrian sides and the United Nations teams. Jordan and the United States act as observers.