US Presidents traipsing round the Polish capital are a common sight — Trump will be the eleventh to visit since Richard Nixon's 1972 trip.
Ever since Mikhail Gorbachev initiated the "Sinatra Doctrine" in 1989, Poland has been strongly pro-American, with streets and squares named after renowned US figures, and even a statue of Ronald Reagan gracing Warsaw.
Getting ready to leave for Poland, after which I will travel to Germany for the G-20. Will be back on Saturday.

— Donald J. Trump (@realDonaldTrump) July 5, 2017
​It's unclear whether Trump will stop to pose with the sculpture — although it's likely his sojourn will not be marred by the large-scale protests which have invariably attended his previous stopovers in Brussels and elsewhere, and are planned if and when he visits Germany and the UK.
However, should few if any demonstrators take to the streets once Air Force One touches down, it won't just be the internationally controversial President breathing a proverbial sigh of relief — the Polish government, likewise divisive on a global scale, will surely also be delighted.
© REUTERS / Jonathan Ernst
US President Donald Trump and German Chancellor Angela Merkel pose during a family photo at the Greek Theatee during a G7 summit in Taormina, Sicily, Italy, May 26, 2017.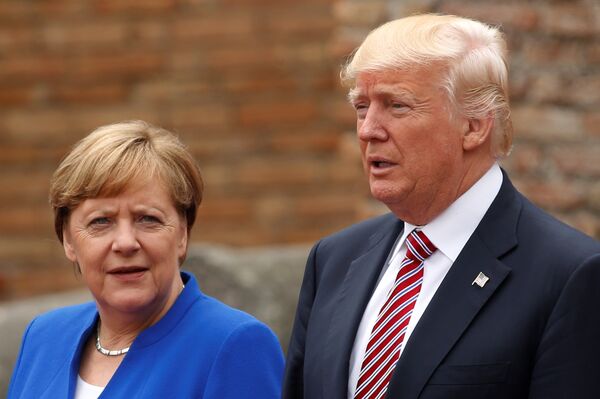 US President Donald Trump and German Chancellor Angela Merkel pose during a family photo at the Greek Theatee during a G7 summit in Taormina, Sicily, Italy, May 26, 2017.
While Trump's visit is intended to reaffirm US commitment to Europe, and calm concerns over the durability of NATO's collective defense doctrine, it will also be an opportunity for Warsaw to present itself as an alternative regional "point man" for the White House, in turn blunting criticism emanating from the European Union, and many European capitals.
In the former instance, the ruling Law and Justice (PiS) party are likely to find a receptive audience in Trump. Under his leadership, relations between the US and Germany have reached a nadir in record time. The president has strongly criticized Merkel's immigration approach, slammed her trade policies, and condemned the country's failure to reach NATO's "two percent" target.
We have a MASSIVE trade deficit with Germany, plus they pay FAR LESS than they should on NATO & military. Very bad for U.S. This will change

— Donald J. Trump (@realDonaldTrump) May 30, 2017​
…vast sums of money to NATO & the United States must be paid more for the powerful, and very expensive, defense it provides to Germany!

— President Trump (@POTUS) March 18, 2017​
In response, Merkel's ruling Christian Democratic Union and Christian Social Union bloc have downgraded the US from "friend" to "partner" in their 2017 election manifesto.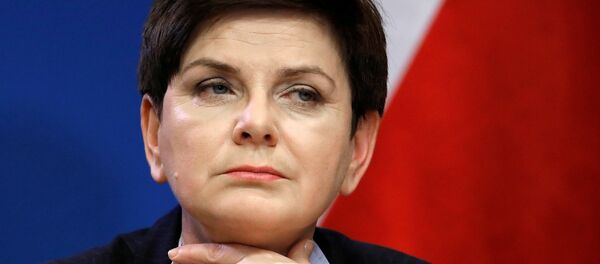 This burgeoning animosity makes Trump's Washington and PiS' Poland ideal bedfellows, for Warsaw is engaged in a bitter and longstanding confrontation with Brussels — and by extension Berlin — of its own, over Merkel's immigration proposals, and changes to its constitutional court. 
The dispute arose in December 2015, when changes were made to Poland's Constitutional Tribunal, with five "politically friendly" judges added, a move seen by critics as making it easier to push through legislation with little to no opposition.
In December 2016, the European Commission officially warned Poland it would remove its voting rights in the EU, if the government did not roll back the changes, claiming they are contrary the principle of the rule of law.
However, PiS have indicated they has no intention of doing so — and as the country and the bloc shift ever-further apart, the party is already making moves towards creating a regional political alliance of its own, the Three Seas Initiative.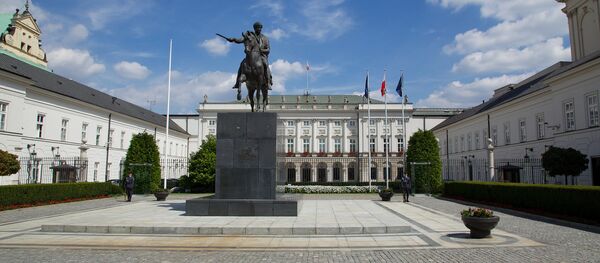 Announcing the plan, President Andrzej Duda said Poland wished to build a community "alongside" the Euro-Atlantic — although Polish and US leaders alike may hope it will be an independent alternative in practice, a "new Europe" of sorts.
Such a notion is not a novel one. In 2003, in the lead up to the Iraq War vote in the United Nations Security Council — in which Berlin and Paris famously voted against intervention — then US-Defense Secretary Donald Rumsfeld ruffled feathers in many European capitals by dividing the continent into "old" and "new." The former was opposed to US policy, the latter conducive to US interests.
"You're thinking of Europe as Germany and France. I don't. I think that's old Europe. If you look at NATO today, the center of gravity is shifting to the East. There are a lot of new members. Germany has been a problem, France has been a problem. Vast numbers of other countries in Europe [are] not with France and Germany, they're with the United States," he said.
Other countries in the region, most notably Hungary, have problems of their own with the EU — and the President is sure to find similarly enthusiastic allies in many of the capitals along the way. Berlin is yet to comment publicly on the president's regional voyage, although it's arguable it will provoke much anxiety, for the jaunt's message couldn't be clearer — "we don't need you."