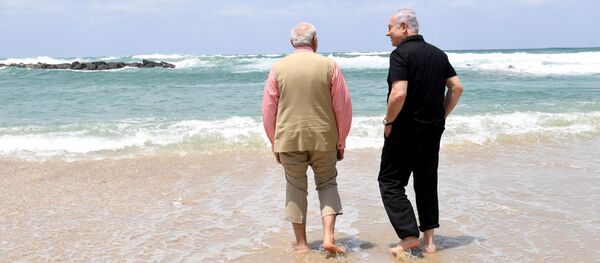 New Delhi (Sputnik)
–
The meeting took place at the end of Prime Minister Narendra Modi's visit.
Pune-based Kalyani Strategic Systems Ltd has signed a joint venture agreement with Israel Aerospace Industries (IAI) for addressing a range of opportunities across air defense systems, radars, anti-ship missiles and command & control systems for the Indian armed forces. Both the companies will produce weapons worth $1.54 billion over a period of 7-10 years.
The two CoChairs of the India Israel CEO Forum sign and exchange the Joint Intentions document. Very smooth discussion and conclusion. pic.twitter.com/xpu8FQwe9A

— Dr A Didar Singh (@SecyGEN_ficci) 6 июля 2017 г.
​Bangalore-based Dynamatic Technologies and Elcom signed a 'Strategic Teaming Agreement' to produce, assemble and support UAVs in India with IAI. The joint venture is targeting the lucrative medium altitude long endurance (MALE) UAV market in India under technology transfer from IAI. The Indian defense ministry invited a response from indigenous manufacturers for procurement of MALE UAVs for use by three defense services.
"This will be under the "Make in India" initiative from Indian companies," the notification said.
Alpha Design has signed a joint venture agreement with Elbit Security Systems worth $500 million. This deal will provide much needed indigenously manufactured thermal image-based sights and fire control systems, unmanned aerial vehicles, long range reconnaissance and observation systems (LORROS), coolant dewar detector, eye-safe laser range finders under technology transfer.
Little known in the Indian defense industry, Garware-Wall Ropes Ltd (GWRL), and Israel's Aero-T signed the agreement to manufacturing and supplying advanced aerostat systems for India. The aerostat is served as early warning systems against enemy air attacks as well as for low-level ground surveillance. Mahindra Telephonics and Shachaf Engineering of Israel will jointly design, develop and manufacture strategic electronics systems for aerospace projects.
India's Texmaco Rail and Engineering Ltd of Adventz Group and LeshmanLesico Group of Israel will execute light rail projects worth $2 billion including Greenfield light rail projects in Tel Aviv and Jerusalem.