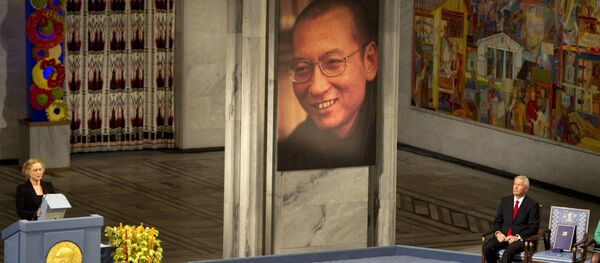 BEIJING (Sputnik) — The German Embassy in China accused Chinese authorities of illicitly monitoring and recording a German doctor's visit to prominent Chinese dissident and Nobel laureate Liu Xiaobo.
"We have noted with deep concern that certain authorities have evidently made audio and video surveillance recordings of the medical visit of Mr. Liu Xiaobo by a German doctor. These recordings were made against the expressed wishes of the German side, which were communicated in writing prior to the visit," the statement issued on Tuesday read.
Such actions undermine trust in the Chinese authorities dealing with Liu's case, the ministry added.
Liu was tried for "inciting subversion of state power" in 2009, a year after publishing the Charter 08 manifesto calling for overhauling democratic reforms in China. He was subsequently convicted and sentenced to 11 years in prison. In 2010, he was awarded the Nobel Peace Prize, triggering a massive diplomatic row between China and Norway. His prison term is expected to be completed by 2020.
In May, Liu was diagnosed with late-stage liver cancer and was allowed to be transferred out of the prison to receive the necessary treatment in a hospital. Despite the calls on Beijing to allow the dissident to be treated overseas, the Chinese authorities remained uncompromising on this issue, warning against foreign involvement.