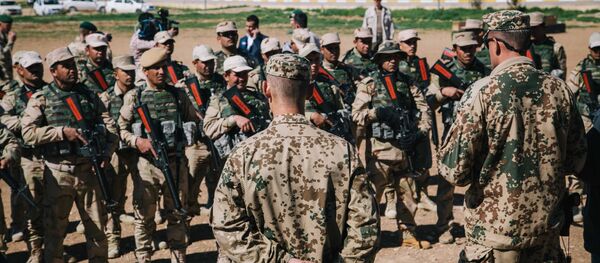 BERLIN (Sputnik) — The ministry stressed that mine clearing and restoration of the infrastructure are the key issues in Mosul, as well as providing reconciliation and peaceful coexistence.
"The city of millions, Mosul in northern Iraq is finally liberated from the terrorist group IS [Daesh]. It is a big success for the Iraqi army, backed by the global anti-IS coalition, in which Germany, too, takes part. Now the issue is to stabilize the region as soon as possible in order to be able to offer the people the most basic conditions to live in the place," the ministry said in a statement, adding that Germany plans to allocate some 100 million euro ($114 million) in 2017 to Iraq as humanitarian aid and 46 million euros more on stabilization projects.
"The younger generation needs perspectives for the future: education and jobs are the best remedy against radicalization," the ministry added.
Mosul fell under control of terrorists in 2014 and was since then Daesh key stronghold in Iraq. The operation to recapture the city was launched in October 2016 by the Iraqi troops backed by the US-led international coalition. The eastern part of the city was liberated in January, and on Sunday, the Iraqi armed forces regained control over the rest of the city, with Prime Minister Haider Abadi declaring the city's liberation from the terrorists.