Analysts believe that the country will face difficulties in the context of the post-conflict restoration and ensuring security. Moreover, some of them fear that it would take long to eradicate radical ideology among the country's population.
"Terrorists finally left Mosul, and the Iraqi army continues to fight against them. In the near future, we could possibly say that the whole Iraq has been liberated from terrorists. However, it is more difficult to defeat ideology that contaminated people's minds. And this struggle for their minds will drag on. Here, we will need new technologies and strategies," Iraqi political analyst Khaled al Naser said in an interview with Sputnik.
Iraqi government spokesman Saad al-Hadisi told Sputnik that "with this victory in Mosul, the Iraqi government has fulfilled its promise to liberate the city." However, as al Hadisi stated, the country's authorities still have a lot to do.
"Of course, we have to solve a number of problems. First of all, we must restore the cities with completely destroyed neighborhoods as well as reunite Iraqi citizens. These are the two main challenges to Iraq. The preservation of peace between people in the liberated regions is no less important than the fight against Daesh," al-Hadisi told Sputnik.
The politician also stressed the importance of attracting investments to the country.
"In order to attract investments to Iraq, the government plans to take part in an upcoming international conference in the United States, where it could meet with representatives of international funds and banks," the Iraqi politician said. "Moreover, jointly with Kuwait, we are planning a meeting of international investors, where we will have an opportunity to discuss the prospects for mutually beneficial cooperation," he added.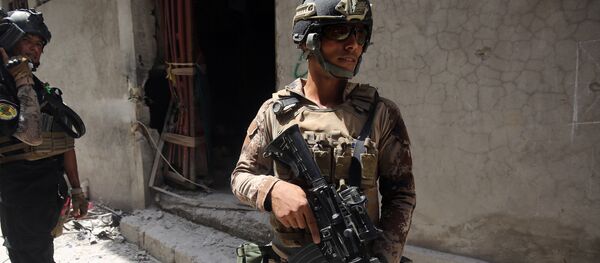 On July 9, Iraqi Prime Minister Haider Abadi declared
Mosul liberated from the Daesh terror group
. Fighters of the anti-terrorist unit of the Iraqi armed forces raised a national flag on the banks of the Tigris River in the historical part of the city located in northern Iraq.
Mosul fell under control of terrorists in 2014 and was since then Daesh key stronghold in Iraq. The operation to recapture the city was launched in October 2016 by the Iraqi troops backed by the US-led international coalition. The eastern part of the city was liberated in January.