Measuring 509 feet long, the multipurpose warship weighs in at 9,140 tons and has a 66-foot long beam. The USS Finn is equipped to carry out anti-submarine and anti-air warfare operations.
Like other vessels in its class, this destroyer features two 30-millimeter Close In Guns (CIGS), two 155-millimeter Advanced Gun Systems (AGS), an advanced "over-the-horizon" anti-ship missile system and a torpedo launching system.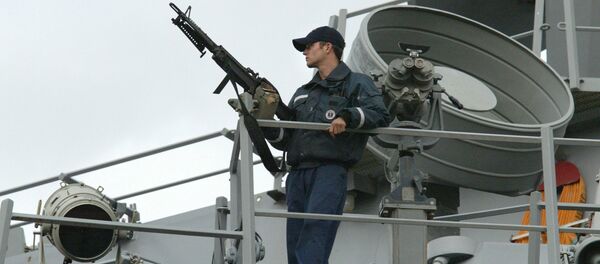 For land attack and anti-air warfare missions, the Finn is fitted with 90 vertical launch system cells armed with different types of missiles and can accommodate two MH-60R anti-submarine warfare helicopters, according to the Diplomat.
It will also be the first destroyer in its class to use the Baseline 9 version of the Aegis Combat System, according to the Navy. 
The vessel's namesake is a Medal of Honor recipient who showed "magnificent courage in the face of almost certain death" during the 1941 attack on Pearl Harbor, in the words of the late Adm. Chester Nimitz.
Using what Lockheed Martin calls "the Navy's most advanced multi-function radar system," the AN/SPY-1, the Aegis Baseline 9 is an automated weapons control and command-and-control system that gives surface warships integrated air and missile defense (IAMD) capabilities.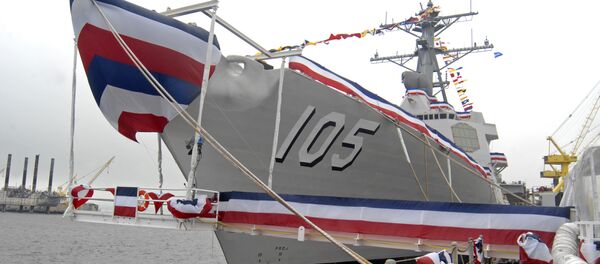 After testing the Aegis system's interoperability with the Spanish Navy in 2016, the US Navy said, "This high-powered radar is able to perform search, track, and missile guidance functions simultaneously, with a track capacity of more than 100 targets." According to Lockheed, "When paired with the MK 41 Vertical Launching System, it is capable of delivering missiles for every mission and threat environment in naval warfare."
"The Aegis Combat System Baseline 9.C1 offers unprecedented capabilities, including simultaneous air and ballistic missile defense," the defense company's director of Aegis programs Jim Sheridan said in a statement. "This Aegis baseline also improves Aegis networking capabilities, allowing Aegis vessels to automatically coordinate defense with input from satellite and ground-based radar assets — forming a true shield of defense over a wide area."
The ship was built by Mississippi-based Huntington Ingalls Industries. Its 350 officers and enlisted personnel will be led by commanding officer Cmdr. Michael Wagner.