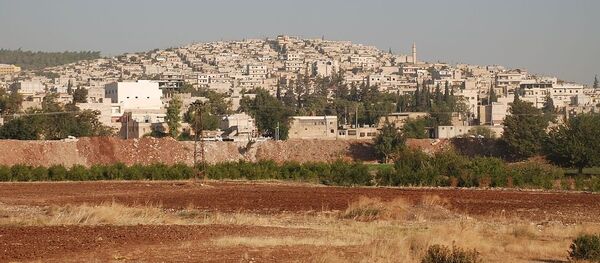 ANKARA (Sputnik) — It is necessary to conduct a military operation, hopefully backed by Turkey, against the Kurdish Democratic Union Party (PYD) in the northern part of Syria, Ahmed Osman, the commander of the Sultan Murad group, which is part of the Free Syrian Army (FSA), said on Thursday.
"We have to carry out an operation against the PYD in the northern suburbs of Aleppo, because it is necessary to end the occupation of areas on the border between Syria and Turkey. There is no other way to enable 200,000 civilians, who had to leave settlements on the Syrian-Turkish border, to return," Osman said, as quoted by the Anadolu news agency.
According to Osman, over the past few weeks, residents of the city of Tall Rifat, located to the south of the border with Turkey in Syria's Aleppo region, have been organizing demonstrations demanding to clear the area from the PYD forces.
"The FSA is ready to do it. We ask Turkey to support us, like it did during the Operation Euphrates Shield. First we will ask from the PYD militant to peacefully leave the settlements on the Syrian-Turkish border in order to avoid fighting and casualties. But if the terrorists refuse, then the FSA will have no choice but to fight," Osman said.
Operation Euphrates Shield, launched by Turkey in northern Syria in August 2016, concluded in March, with Turkish-led forces driving Daesh (a terrorist organization banned in Russia) from a number of settlements in northern Syria.
Osman added that pushing the PYD forces from Tall Rifat could become the first step to liberate Afrin, located close to the Turkish border.
Earlier in July, Turkish Defense Minister Fikri Isik said that Ankara did not exclude the possibility of launching a military operation in Afrin if the situation in the region posed threat to Turkey's national security.
Ankara considers PYD to be affiliated with the Kurdistan Workers' Party (PKK), listed as a terrorist organization in Turkey.
Tensions between Ankara and the Kurds escalated in July 2015, when a ceasefire between Ankara and the PKK collapsed over a series of terror attacks allegedly committed by PKK members.