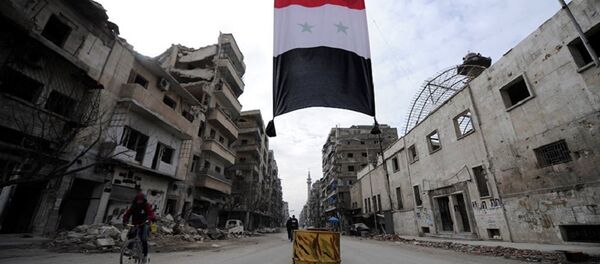 WASHINGTON (Sputnik) — The
southwestern Syria ceasefire
entered into force at noon Damascus time on Sunday after an agreement had been reached by Russia, the United States and Jordan.
The deal was announced by Russian Foreign Minister Sergei Lavrov on June 7 after the first face-to-face meeting between Russian President Vladimir Putin and US President Donald Trump.
"By having some communication and dialogue [with Russia] we were able to have a ceasefire and it's going to go on very well. Frankly, we are working on a second ceasefire in a very rough part of Syria," Trump told reporters.
"And if we get that we going to have no bullets being fired in Syria."
He praised the agreement reached during his meeting with Putin, saying that it has already saved many lives. He added that 5 days the truce is currently in place is a long time for a war-torn country.