GENEVA (Sputnik) — The ceasefire in southwestern Syria, arranged by Russian President Vladimir Putin and US President Donald Trump on July 7 in Hamburg, is "a very good step" toward establishing a political process within the war-torn country, Syrian opposition's High Negotiations Committee (HNC) spokesman Yahya Aridi told Sputnik.
"This is a very good step… That would be a good introduction for the political process taking place in Geneva officially to lead to the political transition we're aspiring for. We are not here for tourism, we are here to contribute and to find a solution to bringing Syria and its people back to life," Aridi said on the sidelines of the seventh round of intra-Syrian talks in Geneva.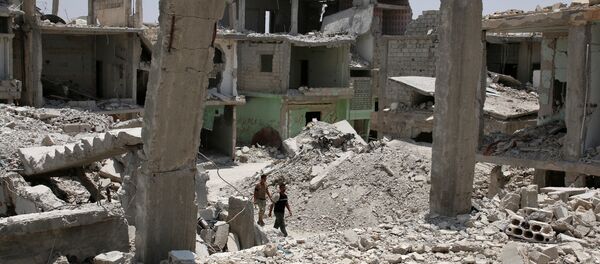 The ceasefire in the Syrian provinces of Deraa, Suweida and Quneitra entered into force on Sunday. Despite this, sporadic violations were reported on that same day, as well as the following day.
The spokesman added he was confident that Russia would be able to prevent such violations and bring about peace.
"With the Russian presence there we understand that Russia has the upper hand over there and it should have a say to control things and bring things back to a peaceful situation," Aridi stressed.
On Wednesday, Trump said at a joint press conference with French President Emmanuel Macron that the United States and Russia were currently discussing a second ceasefire agreement in Syria.
Syria has been hit by a civil war for more than six years with government forces fighting opposition factions, including terrorist groups such as Daesh (ISIL/ISIS) and al-Nusra Front, both of which are outlawed in Russia.