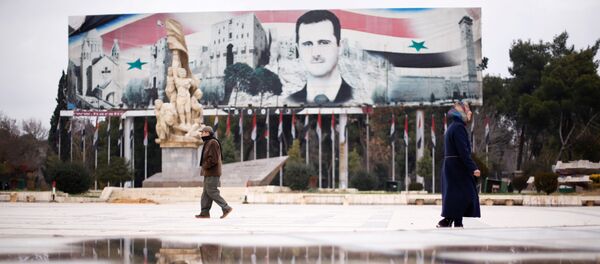 French President Emmanuel Macron and US President Donald Trump held a 
joint press conference in Paris
after their meeting on Thursday, at which they discussed the ceasefire in Syria, the Paris Accord on climate change and other issues. 
President Macron said that the pair had pledged to continue working together to resolve the situation in Iraq and Syria. President Trump said that the ceasefire for southwest Syria agreed during his G20 meeting with President Putin was holding and that his administration is working on preparations for a second ceasefire.
"We're working on a second ceasefire in a very rough part of Syria.  And if we get that and a few more, all of a sudden you're going to have no bullets being fired in Syria.  And that would be a wonderful thing," Trump said.
Macron also said that France's policy in Syria no longer demands the removal of President Assad, in contrast to the calls from his predecessors Francois Hollande and Nicolas Sarkozy that Assad step down. 
"We now have a new approach of Syria because we want some results and we want to be closely working together with our partners, including the United States of America.  We have one main goal, which is to eradicate terrorism.  No matter who they are, we want to build an inclusive and sustainable political solution.  Against that background, I do not require Assad's departure.  This is no longer a prerequisite for France to work on that, because I can only tell you that, for seven years, we did not have an embassy in Damascus, and still we have no solution," Macron said.
While former US President Barack Obama pursued a policy of regime change in Syria, the Trump administration has emphasized that the first priority for the US is the defeat of the Daesh terrorist group.
In March, Secretary of State Rex Tillerson said that "the longer term status of President Assad will be decided by the Syrian people."
© AFP 2023 / Jewel SAMAD
Anti-war protesters shout slogans against US President Donald Trump during a demonstration in front of the Trump Tower in New York on April 7, 2017, to protest the US air strike in Syria
Anti-war protesters shout slogans against US President Donald Trump during a demonstration in front of the Trump Tower in New York on April 7, 2017, to protest the US air strike in Syria
On April 6 Trump ordered an airstrike on a Syrian government airbase after allegations that government forces had carried out a chemical weapons attack in Idlib. Despite that, Tillerson maintained that the US's "priority is first the defeat of ISIS (Daesh)."
"Once we can eliminate the battle against ISIS, conclude that, and it is going quite well, then we hope to turn our attention to cease-fire agreements between the regime and opposition forces."
Elena Suponina, Asia analyst at the Russian Institute for Strategic Studies, told RIA Novosti that the statements by the US and France represent major changes in policy.
"There has been a very serious turnaround in the positions of France and the United States on Syria, largely due to the recent meeting between US President Donald Trump and Russian President Vladimir Putin in Hamburg. The French are following in the wake of changes in US policy," Suponina said.
In May, Russian President Vladimir Putin visited the French President at the Palace of Versailles, where they also discussed the Syrian crisis. The leaders pledged to work together to fight terrorism and agreed on the importance of maintaining the territorial integrity of Syria.
"We cannot allow disintegration of the Syrian state, and deterioration on the situation in the region," Macron said.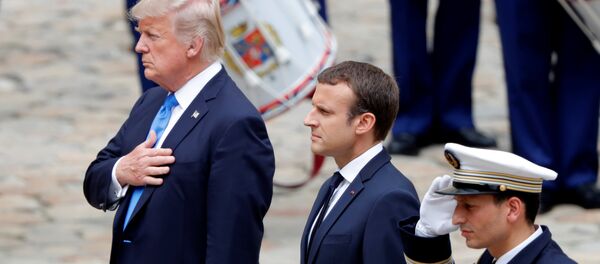 France and the US seem keen to cooperate with Russia in the fight against terrorism, but the US President's statements should be read with caution because the US military has hampered the the Syrian government's fight on terror, Suponina said. The US air force
bombed a Syrian airbase in April
, 
pro-Assad militia in May
 and 
June
, and
downed an aircraft
of the Syrian air force in June
.
"All this means that the United States and France will try to maintain ongoing cooperation with Russia in Syria in the near future. However, I think that we shouldn't forget that Trump made similar statements at the beginning of his presidency and during the election campaign. Despite that, he ordered airstrikes on a government base in Syria."
"I don't think that right now there is any reason to completely trust these new changes in Trump's policy on Syria. The coming months will show how serious is his intention to cooperate with Russia and to recognize the right of the Syrian government to continue to govern. It cannot be completely ruled out that the US President will seize on any opportunity to again inflict another blow on Syria," Suponina said.
Immediately after the meeting between President Putin and President Trump on July 7, Russian Foreign Minister Sergey Lavrov said that the experts from Russia, the United States and Jordan had agreed on a memorandum on the establishment of a de-escalation zone. It covers the Daraa, Quneitra and As-Suwayda provinces in southwestern Syria.
On Friday, the Russian Defense Ministry reported in a daily bulletin that Russian representatives in the Russian-Turkish commission on the Syrian truce have registered 12 instances of ceasefire violations in Syria over the past 24 hours, while Turkey informed about 11 cases.
The Russian Defense Ministry also said that negotiations with armed opposition commanders on joining the ceasefire were being continued in the Aleppo, Idlib, Damascus, Hama, Homs and Quneitra provinces.