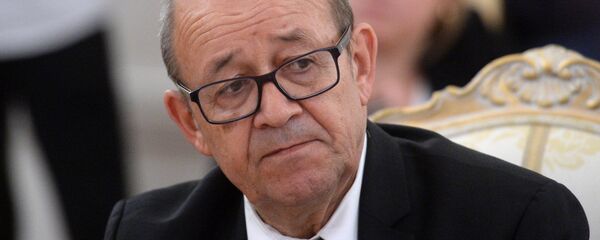 MOSCOW (Sputnik) — On Saturday, Le Drian started his two-day visit to Qatar, Saudi Arabia, Kuwait, and the United Arab Emirates in order hear the positions of the states on the ongoing diplomatic row as well as to offer France's contribution to the mediation efforts led by Kuwait, according to the French Foreign Ministry.
"We again express our support of Kuwait, which acts as the mediator, and express our willingness to provide assistance," Le Drian said at the joint press conference with Saudi counterpart Adel al-Jubeir on Saturday, as quoted by the Al Arabiya broadcaster.
France seeks to alleviate tensions between the Arab States and Qatar in order to create grounds for the dialogue, the minister added.
Al-Jubeir said at the press conference that Riyadh will pass to Paris a full dossier on Doha, which contains "all violations, committed by Qatar," according to the broadcaster.
In June, Saudi Arabia, Egypt, Bahrain and the United Arab Emirates broke off diplomatic relations and communication with Qatar, accusing it of supporting terrorism and interfering in their internal affairs. Kuwait acting as a mediator in the crisis, handed over to Doha the ultimatum of the four Arab states with 13 demands, including the requests to severe relations with Iran, close Turkey's military base on Qatar's territory and shut down Al Jazeera TV channel, as well as to end support for the Muslim Brotherhood, a terrorist organization banned in Russia. Doha refused to comply with the demands.
Following the Gulf states' decision to cut off diplomatic ties with Doha, the French Minister of Justice Francois Bayrou announced last month that Paris would suspend the fiscal benefits it had provided for Qatar since the presidency of Nicolas Sarkozy. These benefits came in the form of the income tax treaty, which was adopted by Sarkozy, the former French president, in 2008. The treaty exempts Qatar and its public entities from taxes on the profits on the real-estate sales in France.