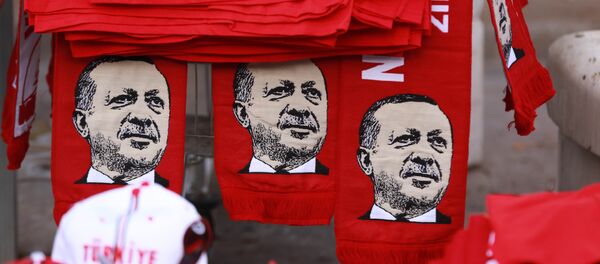 ANKARA (Sputnik) — The most large-scale events took place in the Turkish biggest cities of Istanbul and Ankara. Tens of thousands  marched to the Bosphorus Bridge, which was officially renamed as the 15 July Martyrs Bridge in commemoration of those, who died fighting against the military coup in 2016. The bridge became a prominent symbol of last year's events, when some members of the Turkish army blocked the bridge in an attempt to overthrow the government of Turkish President Recep Tayyip Erdogan.
Erdogan and country's Prime Minister Binali Yıldırım took part in the march at the 15 July Martyrs Bridge on Saturday and participated  in the unveiling ceremony of a monument, dedicated to the victims of the coup attempt.
"We must honor the memory of the sons and daughters of Turkey, who died for democracy, flag, faith and nation's dignity. The Turkish people will never forget and will not allow to forget what happened on July 15, " Yildirim said at the march, broadcast by NTV TV channel.
The Turkish president urged to dress the individuals, accused of the coup attempt, in clothes of the same type "like in Guantanamo [US infamous prison in Cuba]."
"By blocking the bridge, the putschists wanted to show that the situation is under their control. But our nation, after seeing such a betrayal, immediately  started resolute actions. People  took to the streets all over Turkey to resist the putschists. The bloodiest clashes took place in Istanbul and Ankara," Erdogan said in his address at the anniversary, broadcast by the TV channel.
Erdogan also reiterated his willingness to sign the law on the reinstatement of death penalty and added that "we will decapitate these traitors," referring to those, accused of involvement in the coup attempt.
Following Turkey's constitutional referendum on expanding presidential powers over the judicial and legislative branches of the government, held on April 16, Erdogan expressed his readiness to reinstate the death penalty if the measure was supported by the people.
A coup attempt, which mainly involved members of the army, took place across the country on July 15, 2016. Most of the struggle happened in the capital Ankara and in Istanbul. More than 240 Turkish citizens were killed and over 2,000 wounded during the unsuccessful military takeover.
The Turkish government has accused Fethullah Gulen, an Islamic preacher living in the United States, of involvement in the coup and demanded his extradition to Turkey. More than 50,000 people were arrested and 100,000 dismissed or suspended from their jobs within the post-coup crackdown inside Turkey.