In testimony before the Senate Armed Services Committee, General Paul Selva, vice chairman of the Joint Chiefs of Staff, stated that the Democratic People's Republic of Korea (DPRK) has "clearly" demonstrated the capability to land a nuclear warhead on mainland US territory but cannot do it "with any degree of accuracy," Stars and Stripes reported.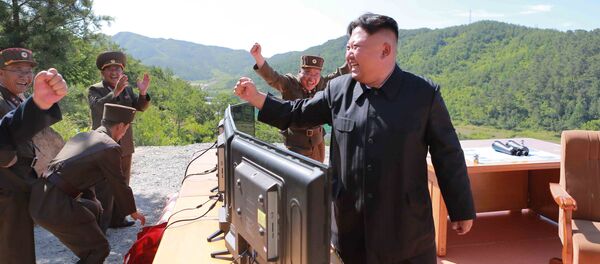 Selva, speaking on Capitol Hill, attempted to calm the fears of some lawmakers by stating, "I do agree in principle with the assessment that the North Koreans are moving quickly to develop an intercontinental ballistic missile," but added that Pyongyang has not demonstrated "the capacity to strike the United States with any degree of accuracy or reasonable confidence of success."
In observational and surveillance data following the July 4 launch of what Washington has claimed was the DPRK's first ICBM, Pentagon intelligence services suggested that the new long-range Hwasong-14 missile has inferior guidance controls and lacks the re-entry targeting technology required for weapon accuracy, according to Stripes.com.
The DPRK Hwasong-14 attained an altitude of some 1,550 miles, traveling downrange about 580 miles before plummeting into the sea between Japan and the Korean Peninsula. Weapons experts have put the Hwasong-14's potential range at some 5,000 miles.
"On range they clearly have the capability," Selva said during his testimony to lawmakers.
The Joint Chiefs of Staff vice chair remarked, however, that his office was "reasonably confident in the ability of our intelligence community to monitor the testing but not the deployment of these missile systems," as DPRK forces "are very good at camouflage, concealment and deception," cited by Stripes.com.
Selva, when asked about pre-emptive military attacks against the DPRK by the US and its allies, answered that "I think we have to entertain that potential option," but added, "We need to think seriously about what the consequences of that action might be."