The Sukhoi Su-35 fighter jet is one of the showstoppers at the MAKS show. It's highly maneuverable, and when it comes to air combat, the pilot's primary task is to "see first, shoot first."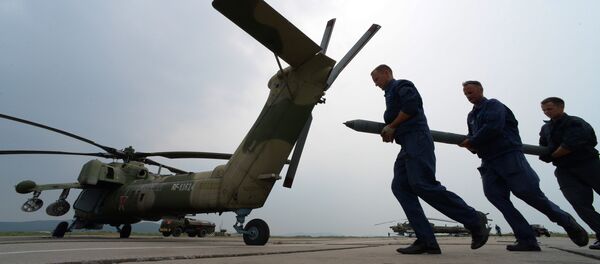 Su-35s can be effective against ships, in air-to-air and air-to-ground attacks. The plane's radar is capable of detecting up to 30 targets and following 8 of them simultaneously.
"We sell this model to China, and we're holding talks with other countries as well," Rosoboronexport representative Nikolay Ruban explained. "So we're quite optimistic about the future of this machine."
Rosoboronexport is part of Rostec, a Russian state corporation created 10 years ago to promote development, production and export of hi-tech products, both for the civil and defense sectors. Rostec incorporates more than 700 firms from all over Russia, and there are thousands of their products at the 2017 MAKS Air Show — from jets and helicopters, to engines and other parts.
But the show is far from being a purely domestic event, with 180 companies from 36 countries and several foreign aerobatic teams in attendance this year.
Russian exporters say the global arms market is not in its best shape now, so they're aiming to diversify their line of "hi-tech toys" by offering more civilian products.
Russian Helicopters — also part of Rostec — is doing exactly that by developing VRT-300, a large drone capable of carrying up to 70 kilos of cargo up to 150 kilometers. Both the regular and the arctic version of the UAV were presented by the company at this year's MAKS.
MAKS is one of the largest air shows in the world. Established 25 years ago, it's being held at the Zhukovsky airfield, 40 km (25 miles) southeast of Moscow.