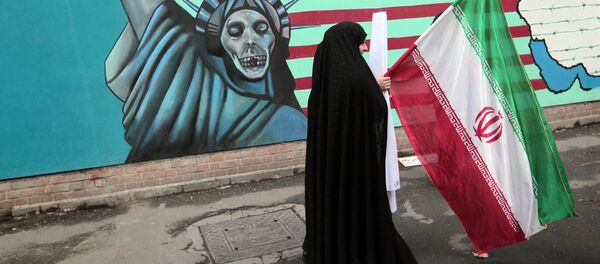 The measures signaled the Trump Administration's desire to put more pressure on Iran while keeping in place the provisions of the agreement Tehran signed with six world powers to curb its nuclear program in exchange for lifting international oil and financial sanctions.
In an interview with Sputnik, Moscow-based political scientist and journalist Stanislav Khatuntsev said that with President Donald Trump now at the helm, the United States was resuming its decades-old policy of confrontation with the Islamic Republic.
"Many in the US political establishment still feel the shock from the nuclear deal [ex-President Obama] clinched with Iran, and what [Donald] Trump is doing now is putting America back on the beaten track in relations with Tehran," Khatuntsev said.
He added that America's partners in the Middle East could have had a hand in this.
"Trump's arrival in the White House signaled the start of a new escalation of anti-Iranian tensions in the Middle East. Well, Trump has never been chummy with Tehran, no doubt about that. Moreover, America's partners in the Middle East – Saudi Arabia and the Gulf monarchies – might be egging him on to turn up the heat on Tehran," Khatuntsev noted.
In Washington, a White House official told reporters that the US planned new sanctions over Iran's ballistic missile program and its "malign activities" in the Middle East.
The official added that in their quarterly report to Congress on the implementation of the Iranian nuclear accord, President Trump and Secretary of State Rex Tillerson would describe Iran as "a grave threat to US interests and regional stability."

He also listed such traditional US concerns as Iranian support for the Syrian government of President Bashar Assad, Lebanon's Hezbollah and the Palestinian Hamas movement, anti-Israeli activities, measures threatening free shipping in the Middle East, cyberattacks against the US and its allies and human rights violations, including illegal detentions of US citizens.
On July 14, 2015, Iran and the P5+1 group of countries, comprising the United States, Russia, China, France and the United Kingdom plus Germany, signed the Joint Comprehensive Plan of Action, ensuring the peaceful nature of Tehran's nuclear program in exchange for sanctions relief.
During his presidential campaign, Donald Trump variously pledged "to dismantle the disastrous deal" and "force the Iranians back to the bargaining table to make a much better deal."