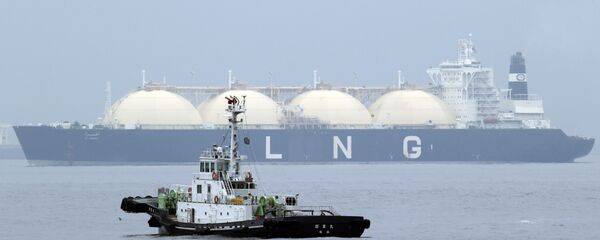 BRUSSELS (Sputnik) — Russia, with its share in total gas deliveries to the European Union amounting to 41 percent in the first quarter of 2017, maintained its lead as the primary gas supplier to the bloc during that time period, the European Commission said Thursday in a quarterly report on European gas markets.
"Russia remained the top supplier of the EU in the first quarter of 2017, covering 41% of total extra-EU imports. While Ukraine pulled through two consecutive winters without Russian supplies, Ukraine remained the main supply route of Russian gas coming to the EU," the report read.
Russian market share has increased by 2 points in the first quarter of 2017, up from the 39 percent share recorded in the same period of 2016. Russia is followed by Norway, which had its market share amount to 35 percent in the first quarter of this year.
Total imports from Russia in the first quarter of 2017 were up 18 percent year-on-year and remained close to the record-high level reached in the last quarter of 2016, according to the report.
In June 30, 2016, Russian energy giant Gazprom's CEO, Alexey Miller, said that the company forecast the growth in European demand for imported gas to average at least 100 billion cubic meters annually up until 2025 and then 150 billion per year by 2035. Aside from this, the shipping of liquefied natural gas, which has covered only 12 percent of the gas supplies in the first quarter of 2017, remains expensive and requires sizable infrastructure investment.