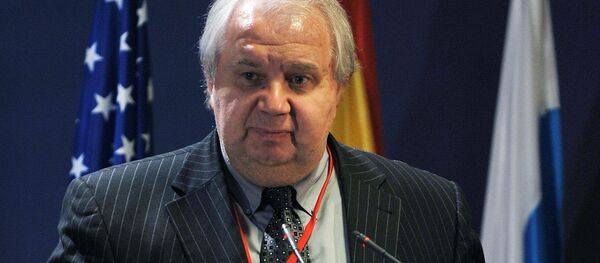 WASHINGTON (Sputnik) — The outgoing Russian ambassador to the United States, Sergey Kislyak, hosted a farewell reception on Friday as he prepares to leave for Russia, the Embassy said.
"On the eve of S.I. Kislyak's trip back home the diplomatic mission held a farewell reception for colleagues and friends," the Embassy tweeted.
The veteran diplomat is tipped as a candidate to fill a senator seat for the Mordovia republic, the office of the Russian region's governor has told Sputnik. He is expected to be succeeded by Deputy Foreign Minister Anatoly Antonov.
Kislyak has been a top Russian diplomat in the United States since 2008. Earlier this year he found himself mired in a media scandal over alleged Russian contacts with Donald Trump's team during the 2016 presidential campaign. Moscow has firmly denied the allegations.