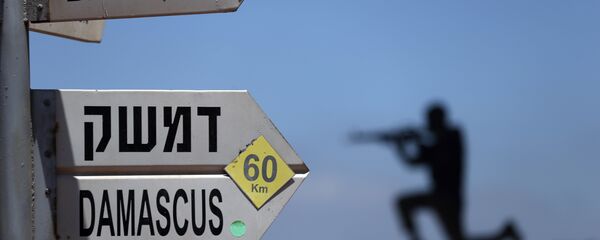 TEL AVIV (Sputnik) — Israel opposes the Iranian presence near its border in de-escalation zone in the southern regions of Syria, a spokesman for Israel Defense Forces (IDF) told Sputnik Sunday.
In early July, a de-escalation zone was established in the southwestern part of Syria in the districts of Deraa, Suweida and Quneitra. On Saturday, an agreement on the Eastern Ghouta deescalation zone near Damascus, north of the southwestern zone, was signed. Secretary of the opposition Popular Diplomacy Movement Mahmoud Afandi told Sputnik that the monitoring of the zone was likely to be carried out by the United States and Russia without Iran.
"The Israeli army's position on the ceasefire in southern Syria follows the political position of the Israeli government… We reject any Iranian presence on the border with Israel and will work on this issue according to the decisions made by the political leadership," head of the IDF Spokesperson's Arabic desk Avichai Adraee said.

The representative of the army added that the country, in respect of the Syrian crisis, adheres to the principle of non-interference and does not support either side, but reserves the right to act in case of attempts to cross the "red lines" established by Israel with regard to its security.
"The red lines that Israel has established in connection with security, attempts to transport weapons and advanced combat systems for the Hezbollah movement. We are instructed to act in these cases," Adraee explained.
The agreements on the order of functioning of the Eastern Ghouta deescalation zone in Syria were signed following the talks held in Cairo by representatives of the Russian Defense Ministry and the Syrian opposition, mediated by the Egyptian side. The first humanitarian convoy in the de-escalation zone and the evacuation of the wounded are planned in the coming days. The documents were signed as a result of development of previous agreements reached at the Astana talks in early May.