MOSCOW (Sputnik) — The Working Party on Energy of the Council of the EU will continue to discuss the possibility of granting the European Commission the mandate to negotiate with the Russian side on creating a special legal framework for the operation of the future Nord Stream 2 gas pipeline, a EU source familiar with the discussion told Sputnik on Tuesday.
On Tuesday, the working group had the first discussion on the Commission recommendation for a negotiating mandate on the Nord Stream 2 operation, the source said.
"Discussions in the working group will continue during the second week of September," the source said.
The Commission gave a detailed explanation of the reasoning behind its recommendations, including on the legal aspects, the source added. Member States had then the opportunity to ask the Commission questions on all aspects of its recommendation., and then the first exchange of views on the substance of the mandate took place.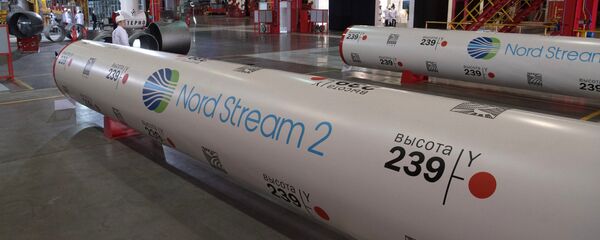 The Nord Stream 2 project, a joint venture of Russia's Gazprom with France's Engie, Austria's OMV AG, Royal Dutch Shell, Germany's Uniper and Wintershall, presumes the construction of two gas pipelines with a combined annual capacity of 55 billion cubic meters of gas. The new pipeline is planned to be laid along the existing Nord Stream pipeline route from the Russian coast through the Baltic Sea, on to a hub in Germany. As the pipeline would not pass through the terrestrial portion of the European Union, it would not be subject to all of the regulations of the EU internal market, under the umbrella of the Third Energy Package.
In order to make the project comply with EU regulations, the European Commission has requested the negotiating mandate, which should be approved by the EU member states. However, German Chancellor Angela Merkel said that such a mandate was unnecessary, but added that some legal issues should be cleared up.
The European Commission wants to reach an agreement with Russia on a number of key principles that would apply to the work of this gas pipeline, including transparency in its operation, non-discriminatory tariffs for gas pumping, third-party access to the pipeline and separation of gas sale and transportation functions.