While the agreement is yet to be officially confirmed by either side, and sources close to the matter suggest specifics of the deal await cementation, it's likely the relationship will include a joint development program of some kind.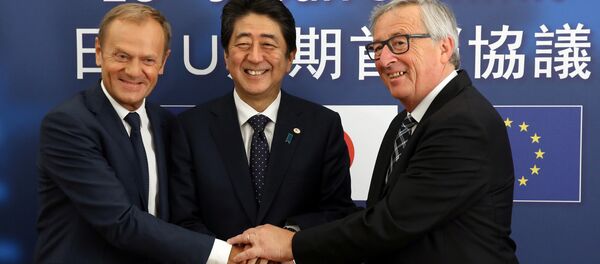 Whatever the nature of the agreement, it will likely prove contentious in some quarters — for one, the move marks the first time the pair have entered into a formal military relationship since World War II, when Imperial Japan and Nazi Germany were broadly tethered.
While direct cooperation and coordination between the ostensible allies was minimal, and both modern countries bear almost less than zero relation politically, ideologically or militarily to their 1940s incarnations, the specter of the duo's infamous wartime alliance could well loom large in the minds of some critics — especially given the potential for technological collaboration on advanced military technology.  
However, such concerns are likely to be extremely overblown. Japan has signed a number of similar agreements with other European powers since 2010, including France, the Netherlands and UK. That year, the government altered the country's Basic Self-Defense Policy, in place since 1957, and signed the new Dynamic Defense Policy into law.
Under the new policy, Japan regained the proactive ability to defend its territory and to contribute to international peace and stability.
Moreover, in April 2014, the government lifted the longstanding ban on Japanese defense firms from exporting products classified as arms.
At the same time, Tokyo's defense purse strings have been greatly loosened — in December 2016, the government approved a record defense budget of US$43.6 billion (Y5.13 trillion) for the fiscal year 2017, a 1.4 percent year-on-year increase.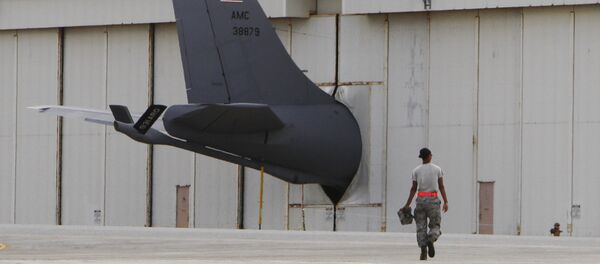 Japan hasn't clarified which alleged threats have made a major revision of Article 9 of its constitution — which explicitly states the country may not build or maintain a military force with war-waging capabilities — necessary, but its unquestionable Tokyo's primary concerns are China and North Korea. 
In the former case, the country has sharply increased defense spending since 2000, and insists that a small chain of Japanese-held islands off Okinawa are Chinese territory. Japan disputes the claim, and has sought to boost its air-sea defense capabilities in response. 
Furthermore, Japan's only defense partner since World War II has been the US, and Tokyo has been obliged to purchase the vast majority of hardware it was precluded from developing domestically from US companies. This reliance on the US arguably limited Japan's defense choices, and in some cases produced conflict between the two.
For example, in the 1980s, Japan sought to jointly craft fighter aircraft FSX with the US — but the deal flatlined, as the US obtained intellectual property rights for some of the craft's technology which was originally developed in Japan, and pushed Tokyo out of the deal. Japan retains bad memories of the double-cross, so looks to a much broader range of defense partnerships with other countries, particularly European nations.
Still, while changes to Japanese law mean the country is free to assist the US and other allies if those allies are attacked, limitations apply. Firstly, Japan is blocked from providing logistical support or sending troops to South Korea if North Korea attacks.
Secondly, Article 9 itself remains very much in place, and to change it Prime Minister Abe would need two-thirds support in the National Diet's lower and upper houses.
© AP Photo / Eugene Hoshiko
Japanese Prime Minister Shinzo Abe, center standing, reviews members of Japan Self-Defense Forces (SDF) during the Self-Defense Forces Day at Asaka Base, north of Tokyo, Sunday, Oct. 23, 2016.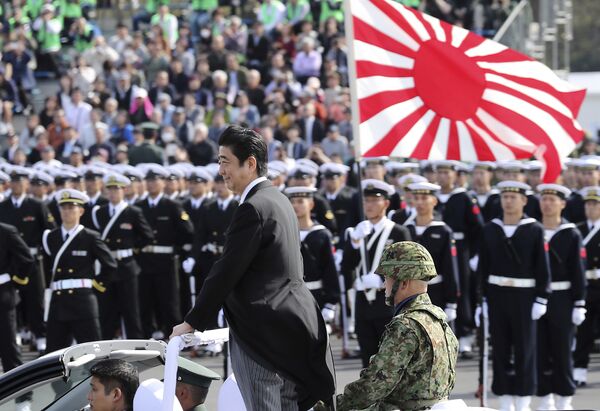 Japanese Prime Minister Shinzo Abe, center standing, reviews members of Japan Self-Defense Forces (SDF) during the Self-Defense Forces Day at Asaka Base, north of Tokyo, Sunday, Oct. 23, 2016.
© AP Photo / Eugene Hoshiko
While a revision of Article 9 is almost certainly desired by the Japanese government, gaining such levels of parliamentary sustenance is unlikely — parliamentarians are understandably concerned about the prospect of Japan becoming embroiled in regional and overseas conflicts not of its own making, or entering an arms race with regional rivals.
Moreover, the Japanese public is yet to fully embrace Abe's push for militarization — a 2016 opinion poll on the subject showed 52 percent of voters oppose changes to Article 9. While a year-on-year decrease of six percentage points, it still means a majority — albeit a meager one — aren't in favor of Japan once again becoming a military power in its own right.
For the time being at least, Tokyo seems destined to be a partner to other nations that in most cases have a significant head start on Japan in technological terms.