DAMASCUS (Sputnik) — On Saturday, Russian Defense Ministry announced the signing of an agreement on the order Eastern Ghouta deescalation in Syria following the results of the talks held in Cairo with Syrian opposition, mediated by the Egyptian side. The agreements define the borders of the deescalation zone, the deployment sites and powers of the deescalation control forces, as well as the routes for delivering humanitarian aid and clear passage to the population. On Monday, the General Staff of the Russian Armed Forces reported that Russia has set up two checkpoints and four observation posts in the zone.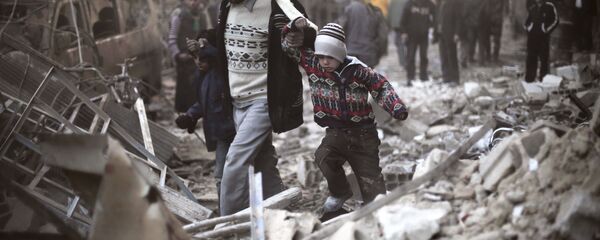 Eastern Ghouta is one of the densely populated outskirts in the Syrian capital of Damascus. The first joint checkpoint of the Russian and the Syrian Armed Forces is located on the outskirts of one of the settlements of this region. The military servicemen of the two countries are inspecting cars, searching for weapons and ammunition, and checking drivers' and passengers' documents. According to various sources, around 9,000 militants of various groups may be in this area, mostly from Jabhat Fatah al Sham (formerly known as the Nusra Front, banned in Russia).
On the first day of the checkpoint, local residents several times came to watch how the inspection is proceeding. Some of them wanted to see the Russian military.
"I am sure that peace will be here, at least the Russian military is doing a lot to make the war remain in the past. I live near this checkpoint and today, perhaps for the first time, I felt safe," local resident Khalid Mahmoud said.
At the checkpoint, four people work on each side simultaneously, while some inspecting, and others providing cover. According to the military, not only civilians watch their work at the checkpoint, but of course, such "observers" do not approach the post itself: a machine gun is installed on the roof of one of the neighboring buildings.
Syria has been in the grips of a civil war for more than six years. According to the UN, over 220,000 people we killed during this time.