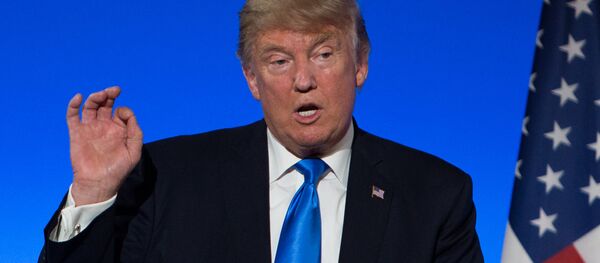 Earlier this week, White House Press Secretary Sarah Sanders said that
US President Donald Trump
is reviewing the anti-Russian sanctions bill before determining his stance on the measure to ensure Americans get the best possible deal.
Sanders added that Trump has no intention to roll back the current sanctions placed on Iran, Russia and North Korea, but he wants to ensure the new sanctions bill is the "best deal" possible for the US public, which Congress has failed to consider.
The US House of Representatives is set to approve on Tuesday a new package of sanctions against Russia, Iran and North Korea after lawmakers struck a deal over the weekend to advance the stalled legislation.
The sanctions target Russia's defense, intelligence, mining, shipping and railway industries and restrict dealings with Russian banks and energy companies. The legislation also limits the US president's ability to ease any sanctions on Russia by requiring Congress's approval to lift any restrictions.
In his commentary for RIA Novosti, Russian columnist Gevorg Mirzayan said that there are at least "three scandalous aspects" pertaining to the US's anti-Russian sanctions bill.
"First and foremost, Congress dealt a serious blow to the interests of the United States. To be more precise, it dealt a blow to the agreements which were clinched between Trump and Putin [on the sidelines of the G-20 summit] in Hamburg and which were in line with American national interests. Washington has already begun to implement some of them," Mirzayan said.
He recalled that in particular, the United States had already announced a reduction in funding Syrian militants through CIA channels.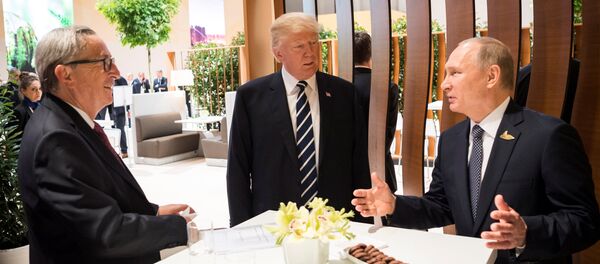 According to Mirzayan, if adopted, the new US anti-Russian sanctions will almost surely stall the process of the US receiving "certain guarantees to protect their interests in Syria."
He added that "apart from Washington's foreign policy priorities, its economic interests are also under threat as many American companies, such as Ford, Procter & Gamble and Caterpillar expressed their protests against the sanctions.
"All of them are afraid of losing contracts related to Russia. They managed to obtain some changes in the conditions for imposing sanctions, but these changes are insignificant. As a result, US business interests were also sacrificed to the phobias of the American political establishment," Mirzayan pointed out.
He believes that "the second scandalous aspect pertains to the fact that the anti-Russian sanctions bill is actually directed against President Donald Trump rather than Russia given that the document bans Trump from personally deciding on lifting or tightening the sanctions regime against Moscow, as well as returning Russian diplomatic assets stolen by the Obama administration."
According to Mirzayan, the US Congress actually makes it clear that they intend to rob the US president of authority.
In this vein, Mirzyan quoted Senate Minority Leader Chuck Schumer as saying, "Given the many transgressions of Russia, and President Trump's seeming inability to deal with them, a strong sanctions bill such as the one Democrats and Republicans have just agreed to is essential."
"Congressmen, in their opinion, introduce a sort of the 'fool-proof' sanctions bill related to foreign policy, and they expect 'the fool' to sign this bill," Mirzayan noted. 
He also quoted Sen. Ben Cardin of Maryland, the top Democrat on the Senate Foreign Relations Committee as saying that "a nearly united Congress is poised to send President Putin a clear message on behalf of the American people and our allies, and we need President Trump to help us deliver that message."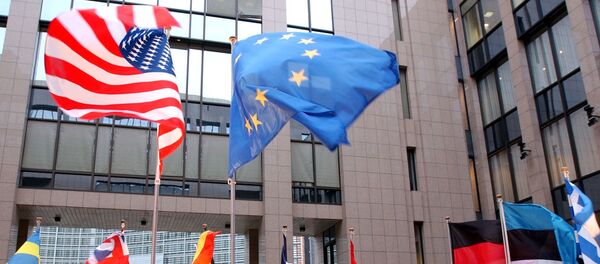 Touching upon the third scandalous aspect regarding the anti-Russian sanctions bill, Mirzayan quoted Vladimir Jabarov, first deputy head of the Russian Upper House's Foreign Affairs Committee, as saying that "the US Congressmen flew into such a rage that they finally lost control of what they are doing."
"And he is literally right, because on the other side of the Atlantic – in Europe – senior officials are outraged by the US desire to make decisions that will regulate the life of Europeans," Mirzayan pointed out, adding that the new sanctions prohibit the EU from  "investing money in certain segments of the Russian energy sector."
"A whole series of joint Russian-European projects are already under question, including the North Stream 2 gas pipeline, which has become for Brussels, more precisely for Berlin, many times more topical in light of the escalating European-Turkish conflict. Not to mention that Berlin and Vienna consider these measures not only as something directed against Trump, but also as an unscrupulous promotion of expensive American liquefied gas supplies to the European market," Mirzayan concluded.